Epic Games have revealed the April 2022 Fortnite Crew Pack.
Epic Games release a new crew pack each month that features a new skin exclusive to the monthly subscription. The current crew pack includes the Tracy Trouble skin.
There's also the Lovely Skully Back Bling, Heartslash Pickaxe, and Tracy's Arsenal Wrap. The outfit, back bling, and pickaxe for the March 2022 crew pack include a dark alt style. The cosmetics will rotate out when the April 2022 Crew Pack goes live which Epic Games have just revealed.
The new pack includes the Sayara skin and will be available for current subscribers on March 31st, 2022 at 8 PM ET. Here are all of the cosmetics that'll be available in the set.
Fortnite April 2022 Crew Pack – Sayara Skin
Along with the Sayara outfit, players will get the following items in the April 2022 Crew Pack:
Fangs of Sayara Back Bling: The Back Bling holds two blades.
Dual Machettas Pickaxe: No hand's idle with this dual-wield Pickaxe.
Saya Sight Wrap: Make even your gear a reminder of Sayara.
Here's a look at the cosmetics: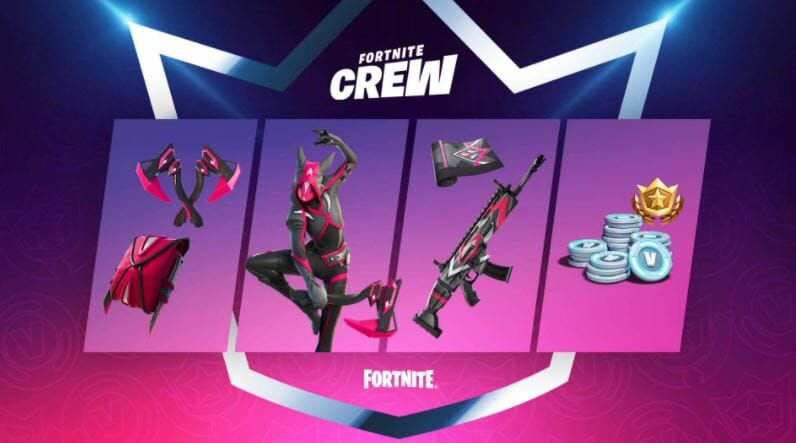 If you don't already have the chapter 3 season 2 Battle Pass, you'll receive it if you purchase the Sayara April 2022 Fortnite crew pack. If you have already bought it, you'll get a one-time 950 V-Bucks refund applied to your account.
You'll also receive 1,000 V-Bucks every month which are received on the day of subscribers' billing date. If you signed up for the monthly subscription on 26th March 2022, you'll be granted your free 1,000 V-Bucks the following month on the same day.