There's a Balenciaga x Fortnite collaboration coming soon including quests and free rewards.
We're a week into Fortnite chapter 2 season 8. Players have mixed opinions on the season so far, but judging by the amount of builds for the next Fortnite update, v18.10, there's a lot to look forward to.
There was a cube activation yesterday with the gold cube whilst the other cubes continue to move around the map. We'll likely see POIs destroyed or created from these cubes as the season progresses.
Whilst we wait on more changes with the cubes, we have a new collaboration. Data-miners have leaked the Balenciaga x Fortnite collaboration that will include new skins, challenges, and free rewards. Here's everything you need to know about the Fortnite x Balenciaga collab.
Balenciaga Fortnite Skins
There's a few Balenciaga Fortnite skins that have been leaked by data-miners after they were decrypted. Here are the skin names:
Unchained Ramirez Fortnite Skin
Fashion Banshee
Game Knight
Shady Doggo
There are other cosmetics too. Here's the full list of the Balenciaga Fortnite cosmetics:
Logo Lugger Back Bling
Skate Pocker Duffle Back Bling
Everyday Sleekpack Back Bling
Camo Carrier Back Bling
The Look emote
Parasail Purser Glider
Speed Sneaker Pickaxe
Fashion Doggo Spray
Knight Looks Spray
Signature Look Wrap + midnight & 24K styles.
Here's an image with all of the cosmetics: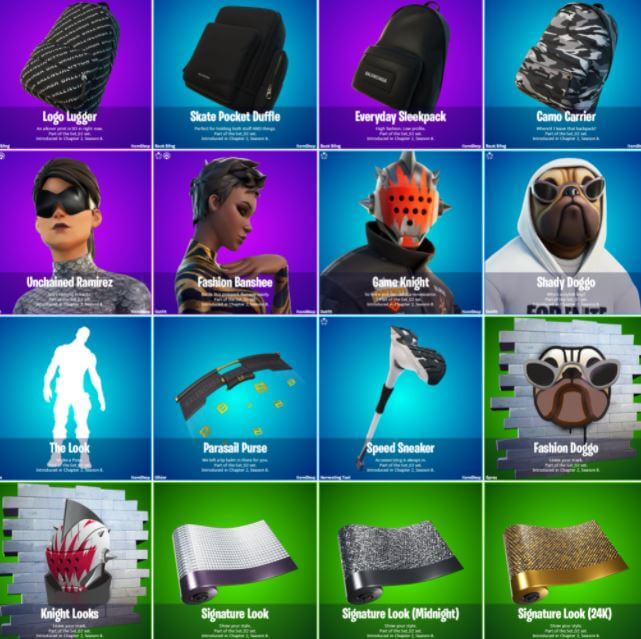 Here's a better look at three of the skins thanks to iFireMonkey (featured image courtesy of him too!)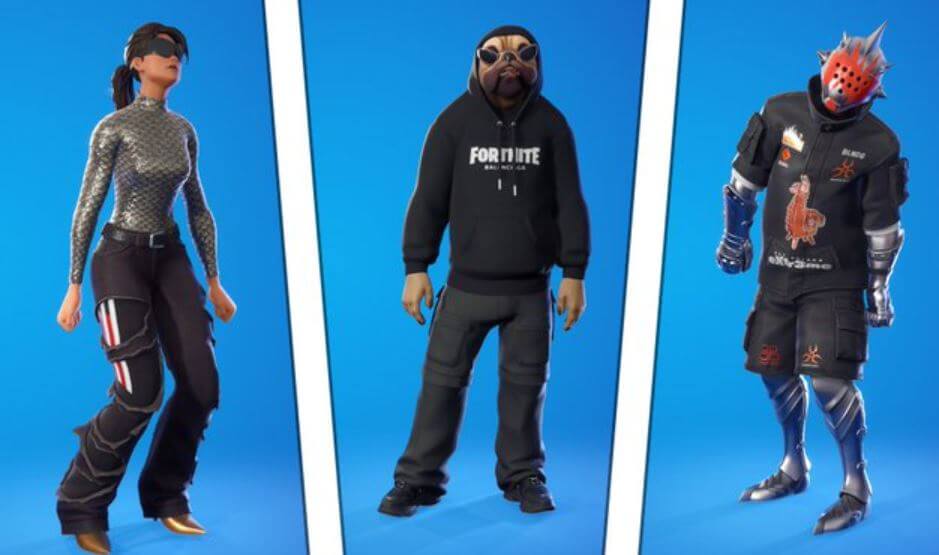 Fortnite Balenciaga Challenges / Quests & Rewards
The collab includes two different challenges / quests that players can complete which we've added below:
Emote in front of Shady Doggo graffiti at Retail Row, Sweaty Sands, or Steamy Stacks (1)
Collect Triple S sneakers in the Strange Times Featured Hub (4)
The free rewards aren't the greatest but they're better than nothing. For completing the first challenge, you'll get the Fashion Doggo spray. Complete the second challenge and you'll get the Knight Looks spray. It looks like there isn't any season 8 XP upon completing these challenges unfortunately.
Release Date
We're not sure when this collaboration will go live, but we're guessing it will go live today with an announcement on the official Fortnite website. We're basing this on the fact that the cosmetics, challenges and rewards were decrypted today. Cosmetics are usually decrypted on the same day they're released.
We should see the above listed Fortnite Balenciaga Skins and other cosmetics in the shop tonight when the item shop resets. However, we'll update this when we have an official announcement with a release date from Epic Games.