Wondering what are in the Fortnite Winterfest Christmas Lodge Presents? Here's a guide of what all presents are what in 2021.
Epic Games officially announced the Fortnite Winterfest 2021 Christmas event in a blog post on Thursday. In the announcement, Epic announced the Spider-Man and MJ No Way Home skins would be coming to the item shop on that day.
The Christmas event also includes the return of Winterfest themed items including the Snowball launcher, chiller grenades, Sneaky Snowman, and the Holiday presents which will provide you with epic and legendary items along with heals.
Thankfully this year Epic decided to bring back the Winterfest Christmas lodge along with the gifts. Players can open a new present each day and players have already managed to figure out what free cosmetic is in each of them.
Here's a guide on all the Winterfest 2021 Fortnite presents including which ones to open to get the free skins, pickaxes, wraps, emotes and more.
What Are All the Fortnite Winterfest Presents 2021
As we've seen in the past, Epic Games revealed the two free Fortnite Winterfest skins in the blog post announcing the Christmas event. The skins are Polar Peely and Krisabelle. However, there was no information on the names or what all the other Christmas Fortnite presents look like.
They did state all the cosmetics though and here's what are in all the presents in fortnite:
Two outfits
Two Pickaxes
Two Wraps
Glider
Contrail
Emote
Lobby Track
Loading Screen
Emoticon
Spray
Banner
Players don't want to just know what they'll get, they want to know what are in the Winterfest 2021 Christmas presents. Here's an image showing all of the free cosmetics you'll get once all the gifts have been opened: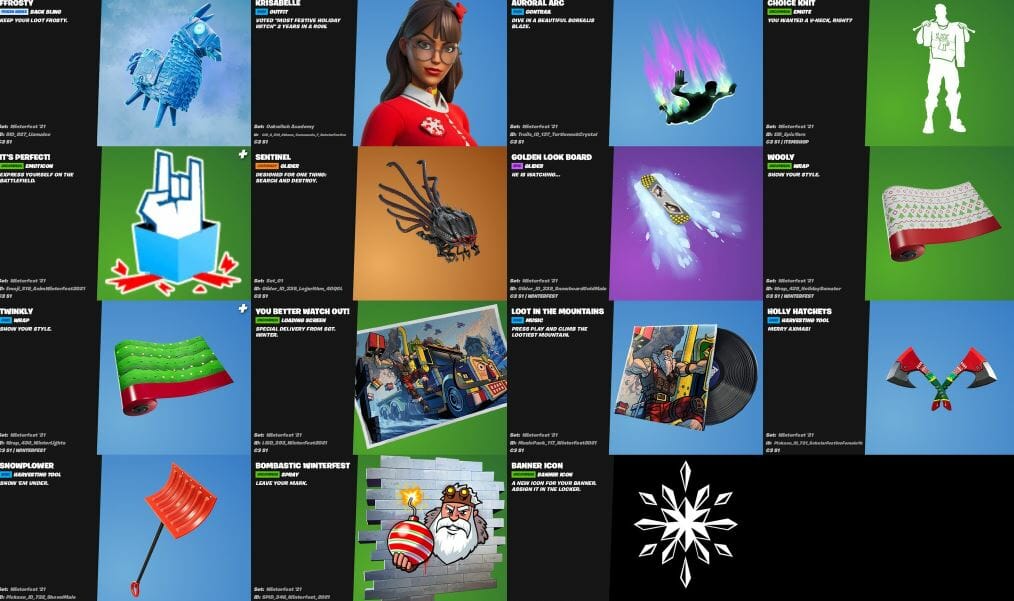 What Presents Are What? Fortnite Christmas Lodge Gifts Guide
When the lodge/cabin was first added back in 2019, players quickly figured out which presents are which. That meant they could open specific presents in order to get the free cosmetics they wanted first.
However, it's important to note that you can get the one of the free Fortnite skins until the end. You can get Krisabelle on day six and Polar Peely on the final day which is fourteen days into the event.
Apart from that, you can open whatever Christmas gift you like and here's a guide to all the presents including what presents are what: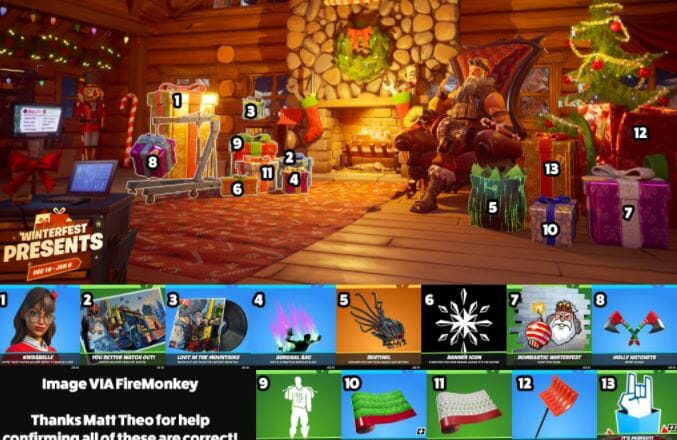 To get to Polar Peely on the fourteenth day, click the gifts on the right and you'll see the frozen slab. Again, you'll only be able to open it on the final day.