A Bugha Fortnite skin, pet, and emote is coming to the game soon.
Epic Games have collaborated with a number of different companies and artists in order create their own Fortnite skins or a locker bundle. The first collaboration we had was with Marvel Avengers and since then we've have music artists, sports collaborations and more.
The latest collaboration saw LeBron James enter the Fortnite world with a skin and challenges. It's been a while since we've had a content creator get their own skin in the game until now. A new icon series has been announced for the Fortnite World Cup winner, Kyle "Bugha" Giersdorf.
Here's everything we know about the Bugha x Fortnite Icon Series skin including a release date, the cosmetics, and the cup that'll take place at the end of this month.
Fortnite Bugha Skin
Yesterday, Bugha tweeted "the reveal" along with a countdown GIF. However, it didn't seem to cross anyone's mind that he could be teasing a Fortnite skin. However, on his Twitch live stream today, he revealed his upcoming skin, a pet, pickaxe, and an emote.
Here are the images of the Bugha Fortnite skin which includes three different skin styles, one with a different jersey, and one with different clothing and a cap.
Release Date
Bugha has confirmed on stream that the Fortnite Bugha Icon Series skin set will be releasing on Tuesday, July 20th at 8 PM EST. We're not sure how long the skin will be available in the shop for, but we'd assume it'll be available for a few days at least.
Bugha Fortnite Cuo – Bugha's Late Game Tournament
It wouldn't be right for Epic to release a Bugha skin without a tournament. Along with the announcement of the skin, Epic Games have announced the Bugha Fortnite cup, Bugha's late game. It'll be available to place on July 28th and in order to be eligible, you'll need to earn at least 1,500 hype points before the Bugha cup begins.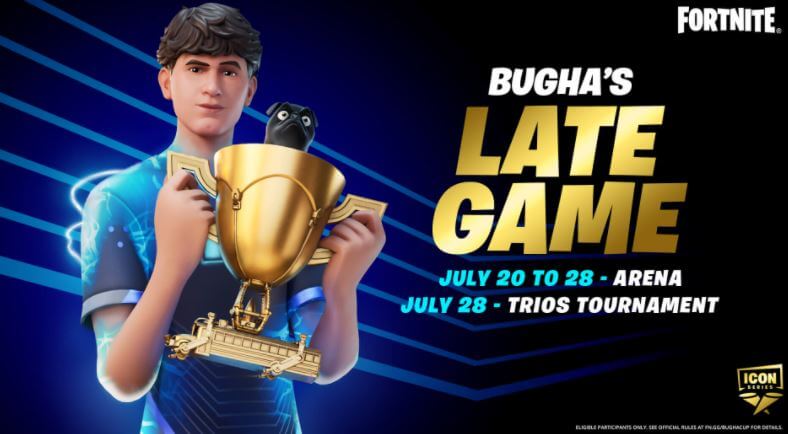 Qualified players will have the chance to to share $100,000 in prize money. Players will receive 3 points per elimination and 70 points to a Victory Royale. Here's a break down of the scoring system:
Victory Royale: 70 Points
2nd: 56 Points
3rd: 48 Points
4th: 42 Points
5th: 39 Points
6th: 36 Points
7th: 33 Points
8th: 30 Points
9th: 27 Points
10th: 24 Points
11th: 21 Points
12th: 18 Points
13th: 15 Points
14th: 12 Points
15th: 9 Points
16th: 6 Points
17th: 3 Point