Here's where Destroyed Dish is on the Fortnite chapter 2 season 8 map in order to complete the "find bottles of Robotic Grey in Destroyed Dish".
Fortnite chapter 2 season 8 launched yesterday with a brand new Battle Pass, map changes, and new features including being able to vote to unvault a weapon or item. We also have some changes to the challenge system along with the return of punch cards.
Instead of collecting Alien Artifacts, this season players need to collect both color bottles and rainbow ink to unlock style options for the Toona Fish Fortnite skin. Players can change the color of the skin or make it look more like other skins.
One of the challenges for Toona Fish require players to find bottles of Robotic Grey in Destroyed Dish. Here's the location of Destroyed Dish along with where the bottles are located.
Where is Destroyed Dish in Fortnite?
New Fortnite seasons always bring map changes. Some players aren't happy with the lack of map changes this season, but we'll likely get a brand new map when chapter 3 launches.
With the map changes, players likely won't know where Destroyed Dish is located on the Fortnite chapter 2 season 8 map. You'll find it west of Dirty Docks at the location outlined on the map below.
It's easy to find the Robotic Grey bottles at this location as they should appear on your mini map. They're quite close together and you'll see the glow from the Robotic Grey bottles from far.
However, here are the locations of the Robotic Grey bottles: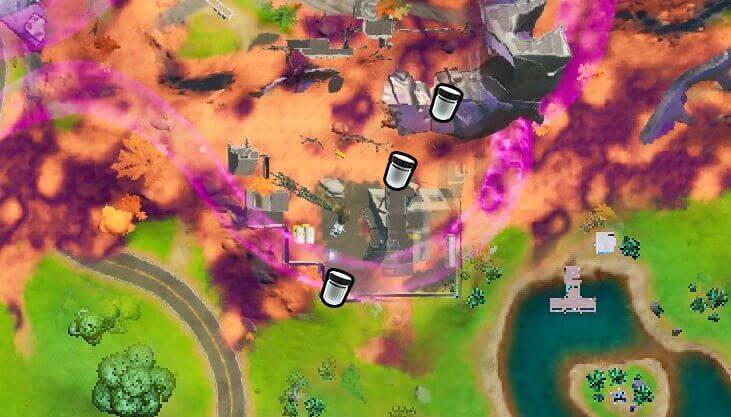 We'll be covering all the other bottle locations but there's quite a few. We'll link them to one main article once we've covered each location to make it easier for you to find.