The Dragon Rune Lance Pickaxe has been disabled in Fortnite. Here's why.
It's been just over a week since the launch of Fortnite chapter 3 season 3. Each new season launches with a new Battle Pass that provides players with a bunch of cosmetics to unlock by leveling up throughout the new season.
For the most part, the season three Battle Pass is pretty underwhelming, but one of the outfits, Malik, seems to have gone down well with the player base with many hailing it as one of the best Battle pass skins we've had in a while.
There are a handful of other cool cosmetics this season including the Dragon Rune Lance harvesting tool. It's a pickaxe of Epic rarity and can be unlocked on page three of this season's Battle Pass.
Here's what the pickaxe looks like:
Unfortunately, the Dragon Rune Lance pickaxe has been temporarily disabled, so those of you wondering where it's gone or why it can't be unlocked, it won't be available for at least a week, and here's why.
Fortnite Dragon Rune Lance Disabled/Removed
The official Fortnite Status Twitter account will always tweet out any issues Epic Games are looking into for Fortnite along with if any items have been removed or disabled for any reason.
They tweeted out today that the pickaxe was disabled from the game and will update players when they have more information to share. You can check out the tweet below: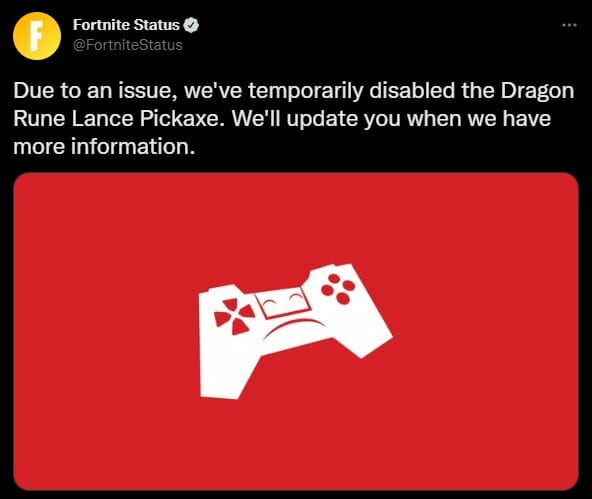 When an item is removed from the game, Epic Games will never state the reason why for obvious reasons. We've seen many items and cosmetics disabled until they are fixed in the past, none of which provided a reason why they were being removed.
However, we know why the Dragon Rune Lance pickaxe was disabled. YouTuber GKI, known for posting the best glitches for Fortnite, posted a video that showcases an exploit that made the pickaxe "Pay to win".
The exploit that was found removes a player's foot-step audio entirely when using the pickaxe. This obviously is a major advantage when footsteps provide players with information regarding the location of a nearby player.
With so many players using the visualize sound effects options, it makes it much worse when a player's footsteps won't appear on the screen. It took Epic Game a day and a half to disable the pickaxe after the video was posted, and with the video getting just under five hundred thousand views, it's likely this was abused by a large number of players.
There's no information regarding when the pickaxe will return, but we're guessing the most likely return date is next Tuesday when the 21.10 update is released, although this is complete speculation. We'll update this article when the pickaxe has been re-enabled.