Today is the Dreamhack Fortnite tournament heat 1. Here's everything you need to know including how to register, prize pool, the score system, and more.
It's the first heat of the Dreamhack Fortnite online tournament today. The Dreamhack tournament is open for NA East, NA West, and Europe. Players on all devices, which is PlayStation, PC, Mobile, Xbox, and Nintendo Switch, can participate.
The tournament is only for those that have registered. The top 250 players in heat 1 will advance to stage 2. Here's everything you need to know about the Dreamhack Fortnite tournament.
Dreamhack Fortnite
What time does Dreamhack begin?
Here are the start times:
Dreamhack EU (CEST)
Heat #1
Fri, Jul 17, 17:00-20:00
Heat #2
Fri, Jul 17, 21:00-00:00
Dreamhack NAE (EST)
Heat #1
Fri, Jul 17, 5PM-8PM
Heat #2
Fri, Jul 17, 9PM-12AM
Dreamhack NAW (PST)
Heat #1
Fri, Jul 24, 5PM-8PM
Heat #2
Fri, Jul 24, 9PM-12AM
Where and how to register/sign up
If you're wondering how and where to register for Dreamhack Fortnite, it's actually quite simply. Simply login to your Epic Games account and visit this page. Simply click the register button and you're all set and signed up! There's already more than 375,000 players registered for the tournament.
There is NO confirmation email when you sign up and register,, but you'll see a registered label in your Epic Games account.
Scoring System
Players that earn a victory royale will score an additonal 7 points, being 2nd will grant you 4 points, and being 3rd will grant you 2 points. After that, every placement within the top 50 will grant players 1 point per game. Each elimination will provide players with 5 points and there's a total of 10 games players can play in the Dreamhack tournament.
Here's the total breakdown of points per position not including the 5 points per elimination:
1st – 60
2nd – 53
3rd – 49
4th – 47
5th – 46
…
50th – 1
NOTE: This is a solo tournament
It's possible that the scoring system will change for the next stage of the tournament, although we won't know for sure until we get to that stage.
Schedule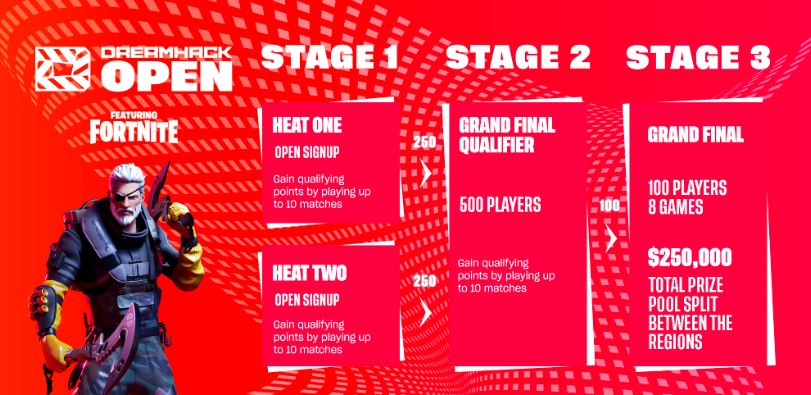 Prize Pool
Dreamhack will be running tournaments for Europe and North America through to January 2021 with a total prize pool of $250,000 each month up for grabs, and all tournaments will be online only and not invite based.
1st place in EU will take hope $16,000 whilst second and third place will take home $8,000 and $7,400 respectively. First place in NA East will earn $10,000, and first place in NA West will take home $4,000.
Here's the full prize money breakdown for the Dreakhack Fortnite tournament: