Here's everything you need to know about the 1% Fortnite cup.
Epic Games officially announced the final Marvel Knockout Series cup, the Venom cup. This is by far the best Marvel cup we've had in the series so far as players will be able to not only win the Venom Fortnite skin, but the pickaxe, we are venom emote, and the back bling too.
Epic teased the Venom skin prior to the announcement, but data-miners were quick to leak it. There's no leaks for the other cosmetics in the set, but you can take a look at the venom skin and pickaxe below.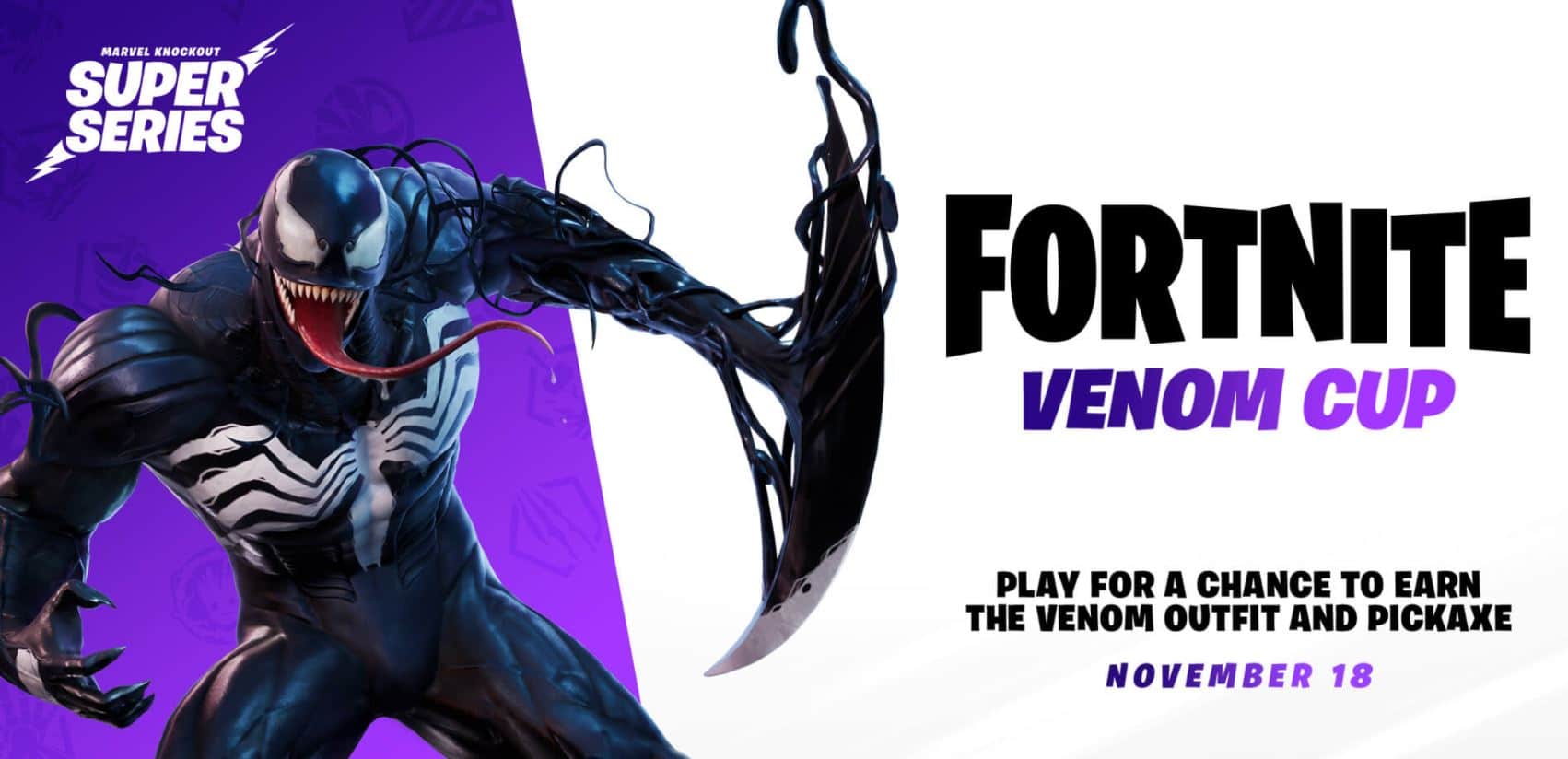 Epic will be holding the finals for the Marvel Super Cup soon with players competing in the $1 million prize pool. However, Epic are also holding other cups for different regions including the 1% cup. Here's everything you need to know regarding the 1 percent cup.
1% Cup Fortnite (1 Percent Cup)
The 1 percent cup is only for NA East and NA West regions with the EU getting their own cup, Encore.
What time does the 1 percent cup start?
Round 1 of the 1% cup starts today, November 17th at 3 PM EST. It'll end at 6 PM EST and players have a maximum of ten matches to advance. The top 1% will advance to the next stage.
The second round is also today and will begin at 7 PM EST and run until 10 PM EST with the same format as above.
Scoring System
Each elimination in the 1% Fortnite cup will provide players with 1 point whilst a Victory Royale will provide 42 points. Here's the full scoring breakdown:
Victory Royale: 42 Points
2nd: 36 Points
3rd: 32 Points
4th: 30 Points
5th: 29 Points
6th: 28 Points
7th: 27 Points
8th: 26 Points
9th: 25 Points
10th: 24 Points
11th: 23 Points
12th: 22 Points
13th: 21 Points
14th: 20 Points
15th: 19 Points
16th: 18 Points
17th: 17 Points
18th: 16 Points
19th: 15 Points
20th: 14 Points
21st: 13 Points
22nd: 12 Points
23rd: 11 Points
24th: 10 Points
25th-29th: 9 Points
30th-34th: 6 Points
35th-39th: 3 Points
40th-44th: 2 Points
45th-50th: 1 Point
Prize Pool
There's only one prize pool in the official rules for the tournament, and 1st place will take home $5,000 whilst second and third place will take $2,500 and $1,250. Fourth place will earn $800 whilst 5th place gets $450.
How to Register
It's easy to register for the 1% cup. All players need to do is visit the 1% cup competitive page and click the register button. Here's the link to register.