The Fortnite No Sweat Summer 2022 event is almost here. Here's everything you need to know about the event including the start date and time of the event, the challenges, and rewards.
For the last three years, we've had a Fortnite summer event. Although they're never as good as the yearly Christmas event, they still offer something different from the usual bi-weekly updates.
Last year, Epic Games released the Cosmic summer event. As expected, it included a number of challenges that players could complete in order to unlock different cosmetic rewards.
Players usually only get one reward from the Fortnite summer event but last year, players could unlock a number of different free rewards including the Ka-bang wrap, Lil'treat emotes, and the Icy Pop emote.
The latest Fortnite update, v21.30, was released earlier today. Players need to download the latest patch which includes new files, many of which have been leaked by data miners. We now know more details regarding the No Sweat Fortnite 2022 Summer event including the challenges, rewards, and more. Here's everything you need to know.
When Will The 2022 Fortnite Summer Event Start?
It looks like the No Sweat summer event in Fortnite will either begin on Tuesday, 19th July, or on Thursday, 21st July. We'll update this article when either date is confirmed.
No Sweat Fortnite Summer Event 2022 Challenges
As expected, we have a new set of challenges for the 2022 No Sweat Fortnite summer event. Here's every challenge that'll be released during the event:
Land after jumping from the Battle Bus during the No Sweat Summer event
Carry the No Sweat sign and place it at a sponsorship location
Complete a lap around the boat race circuit after the starting countdown
Make a Character dance to a Boogie Bomb
Jump on umbrellas along the beach
Kick a beach ball and kick a giant beach ball
Fire off the Firework Flare Gun at Mighty Monument or Tilted Towers
Bust through doors in different neighborhoods
Destroy large sea buoys with Motorboat Missiles
Damage opponents while swimming
Visit different named locations
Fortnite Summer 2022 Event All Rewards
There aren't as many rewards that players will be able to unlock during the No Sweat Fortnite Summer 2022 event in comparison to last year. However, there are still six cosmetics rewards.
The Ice-Blasted Snow Crunchem, Sweaty Sailer Glider, and the Sweaty Rotation emote will be available to unlock. The first reward can be unlocked when three challenges are completed, the glider can be unlocked after seven completed challenges, and the emote can be unlocked after 14 quests have been completed.
There's another set of challenges too that will unlock three further cosmetics and you can take a look at each free reward below: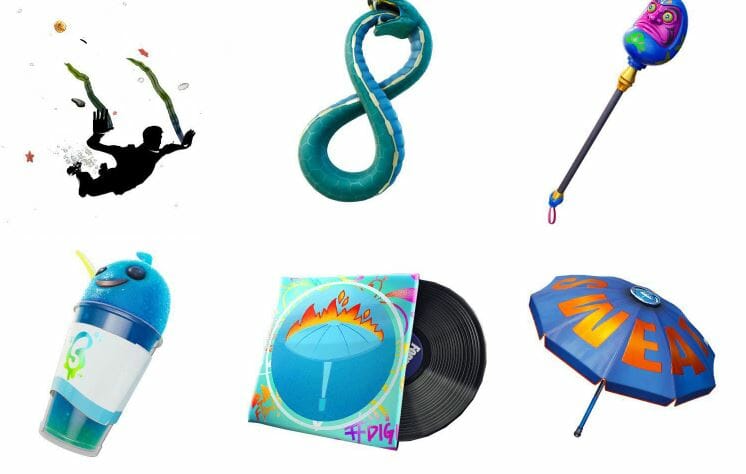 What are your thoughts on the No Sweat event rewards? Let us know in the comments section below.