Epic Games have announced a brand new Fortnite update releasing on April 11th, 2023, 24.20 (3.87). Here are the early patch notes including information on server downtime.
Two weeks ago, Epic Games released the first major patch update for chapter 4 season 2. The release included challenges for the Spring Breakout event.
The event allows players to get their hands on limited-time Easter-themed cosmetics that can be obtained by completing a certain amount of challenges.
Rewards include a back bling, spray, loading screen, pickaxe, and glider. If you've not logged into Fortnite since 24.10, here's a look at some of those free cosmetics:
Aside from the Spring Breakout challenges and rewards, there wasn't too much other content that was added. The Easter Egg Launcher was unvaulted and new eggs were added to the game as floor loot.
Thankfully Epic Games have announced that the v24.20 (3.87) Fortnite update will be released today. Here is what we know so far about the upcoming release.
Fortnite Scheduled Server Downtime – 11th, April 2023 – Is Fortnite Down?
As you'll know by now, Epic Games take down the Fortnite servers prior to a new update release. Today's 3.87 Fortnite update is no different and Epic has announced when scheduled maintenance will begin.
The servers will go down at 3 AM ET / 8 AM BST / 9 AM CEST. However, matchmaking will be disabled shortly beforehand, likely thirty minutes prior.
In the tweet announcing the new update on the Fortnite Status Twitter account, Epic stated that the patch size for the 24.20 (3.87_ update will be larger than normal.
Here's the official tweet: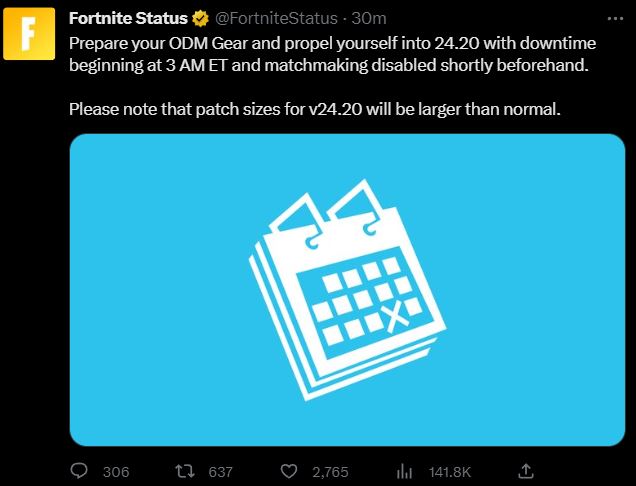 We'll update this section of the article when the servers are back online. Typically, the servers are down for two hours, so expect them to come back online at roughly 5 AM EST / 10 AM BST.
Fortnite  Update 3.87 (24.20) Patch Notes – April 11th
Thanks to leak from the previous patch release, we know some of the content we can expect to see in today's update.
Epic Games already announced that both the Mikasa and Levi Fortnite skins will be available to purchase in the item shop on April 11th.
It's likely that as soon as the servers are back online, players will be able to purchase the new Attack on Titan cosmetics from the shop.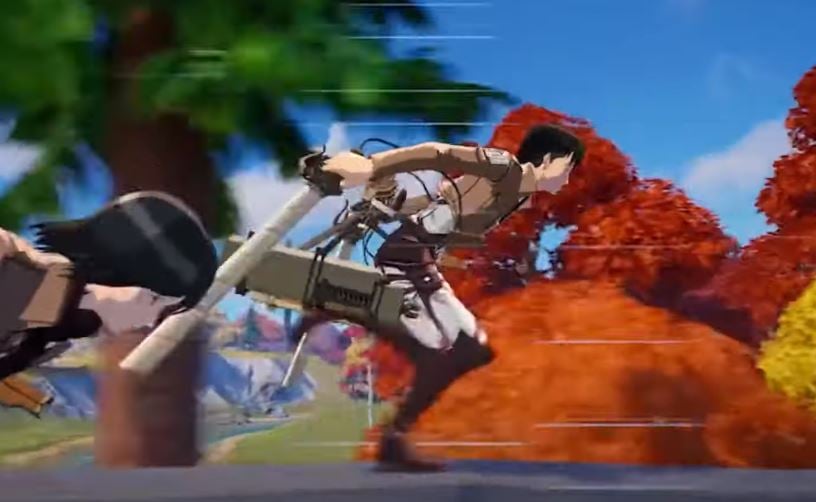 We'll also be getting Attack on Titan Mythic items added to the loot pool including the waist grappler that's been teased several times already.
The Attack on Titan Eren Jaeger Battle Pass skin will also be available to unlock by completing challenges that'll be released in the 3.87 update.
In-Game creator profile will also be making their way into the game along with new Reality Augments being added to the game.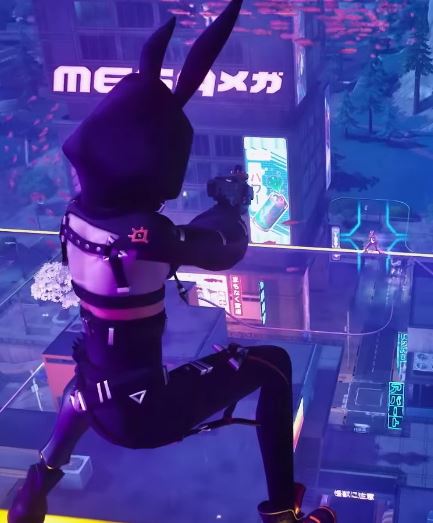 There's a chance we could be getting a new item, the Smart Pistol, that was teased in the gameplay trailer for the new season.
The Hiss Clique Quest Pack will also be added to the game along with a new Coachella collaboration.
During downtime, we'll be posting all the leaks from the v24.20 Fortnite update, so be sure to check out all of our coverage over here.