Epic Games have sent out a message to all Fortnite players regarding changes to the Beach Jules Fortnite skin. Players are now wondering if it was a free skin.
Over the past couple of years, we've seen Epic Games provide additional skin styles to outfits that have already been released in the Fortnite Item Shop at no additional cost to the user.
This was far more common in chapter 1 and the start of chapter 2, but we've had a couple of skins receive an additional style here are there in the past six months.
Occasionally, Epic will make slight adjustments to cosmetics that have been released. We've seen emotes and skins receive changes after release once players realise they pay to win whether that's through an emote allowing players to dodge bullets easily, or a skin blending in with most environments around the Fortnite map.
There are fewer cases where Epic will decide to simply make changes to a cosmetic for little to no reason, but it looks like that's what they've done with the Fortnite Beach Jules Skin in today's 20.30 patch update.
Beach Jules Fortnite Changes
Epic adjusted the skin tone for Beach Jules to match the Chapter two season three version of the outfit. For that reason, Epic Games are allowing players to refund it without needing to use up a refund token, but you'll need to refund it before June 2nd, 2022.
Here's the message players are seeing when logging in after the 20.30 update: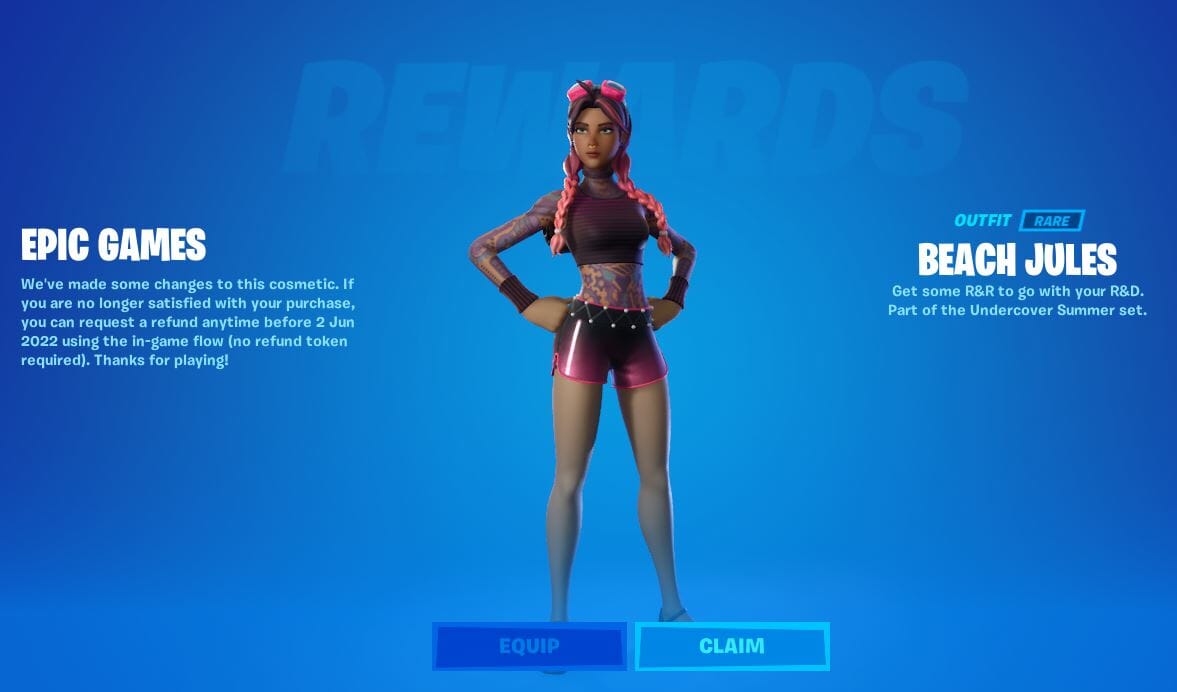 I don't have Beach Jules, why am I getting this message? Is the skin free?
Unfortunately, Epic Games have made an error that has led to every single Fortnite player receiving the above message. That has led to questions asking whether the skin is free, or players asking why they're getting the message if they don't have the skin.
Beach Jules is not a free skin or a Battle Pass skin. As mentioned above, this was sent to every player in error. Even if you claim the refund token, if you try to use it, it won't work. Simply ignore the message and refund token if you never purchased Beach Jules.