Here's everything you need to know about Bio's Zone Wars in Fortnite.
The Fortnite Cosmic Summer Celebration event will officially go live at 9 AM ET. However, the first set of challenges for the summer event have already been released and are available to complete.
Each day, three new challenges will be unlocked and available to complete. Once players complete a certain amount of challenges, they'll unlock different rewards including wraps and pickaxes.
In order to view these challenges, head to the view quests section to the right of the Fortnite lobby. The second option is for the Cosmic Summer quests.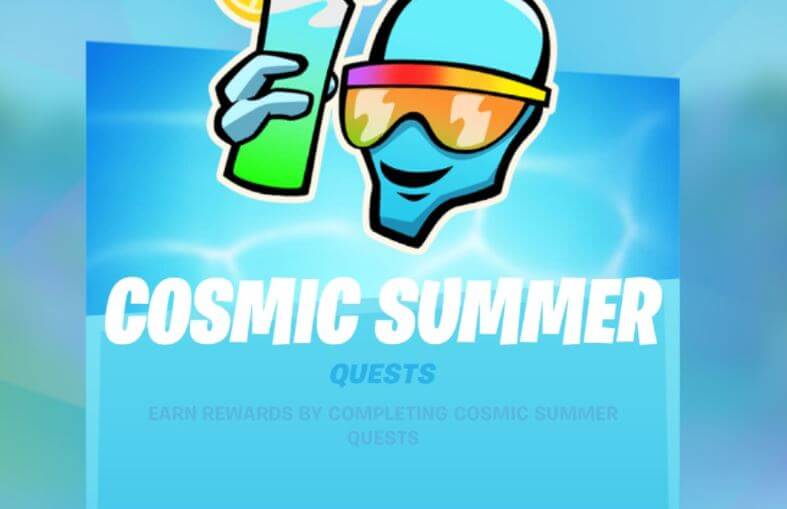 Not only do you get a bunch of season 7 XP for completing these challenges, you'll also get a free cosmetic reward for each completed cosmic quest challenge. XP for the challenges varies from 20k up to 35k xp.
There are four challenges currently available to complete. All of the four challenges are for the Fortnite creative map called Bio's Zone Wars. Here are all of the Bio's Zone Wars Fortnite challenges:
Deal damage to players in Bio Zone Wars Trio (1000)
Get headshot eliminations in Bios Zone Wars Trio (10)
Gain health or apply shields in Bios Zone Wars Trio (500)
Assist teammates with eliminations in Bio Zone Wars Trio (50)
What is Bios Zone Wars Trio in Fortnite?
Bio's Zone Wars Trio is a creative map. You'll be put in with a random trio and it's a small room and you need to loot as much as possible before the math starts. Once the game starts, the storm will start closing and you just need to eliminate players and try to win the match.
It's a hectic creative map with non-stop action which will make the Bio's War Zone trios challenges much easier and quicker to complete. However, it will still likely take you an hour or more to complete the challenges.
Bio's Zone Wars Trio Fortnite Creative Code
At the moment, the Fortnite Bios Zone Wars Trio creative map isn't on the main playlist. When challenges like this need to completed in a certain map, Epic put in on the main playlist but they're yet to do so with Bio's Zone Wars trio.
However, you can still play Bio's Zone Wars Trio and complete the challenges by following the steps below:
Click "Change" on the playlist.
Select "Creative".
Press Discover.
Click Island Code at the top.
Enter the Bios Zone Wars Trio Creative Code which is : 4059-2791-0712 and launch.