Here is some information that confirms the Blade (daywalker) Marvel character will be coming to Fortnite.
There are many Marvel characters that have been added in Chapter 2, Season 4 of Fortnite and no doubt we will be seeing more throughout the season. The Marvel characters that are being added will be available to purchase in the Fortnite Item Shop with the Fortnite currency, V-Bucks.
Epic haven't been announcing which Marvel Skins will be added in the game, but dataminers have managed to find files that have been added in the v14.20 update that reveal a new Marvel character that will be coming to the game.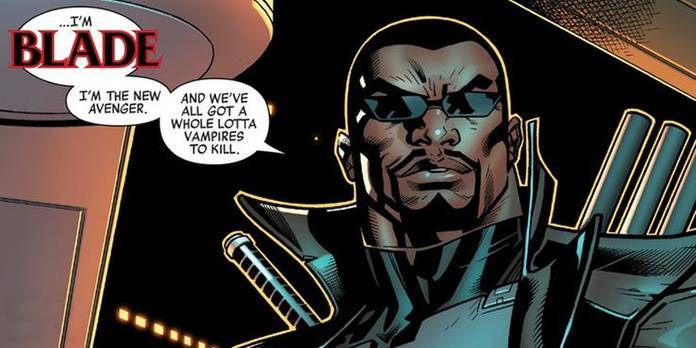 UPDATE: Marvel have just tweeted a pair of sunglasses, the sun, a vampire and swords:
🕶️☀️🧛🏾⚔️ #FortniteNexusWar

— Marvel Entertainment (@Marvel) September 23, 2020
This is more than likely hinting at the arrival of the Blade Skin, which we should see appearing in the Item Shop tonight. Blade is joining the Nexus war in Fortnite very soon!
Update 2: The Blade Fortnite skin is in the item shop
Fortnite Blade Skin (daywalker)
Dataminers have managed to find files that relate to the character Blade. Blade is a character that it half-human, half-vampire and he hunts down the evil vampires and has trained himself to become the ultimate vampire hunter.
The last Blade movie was in 2004, however Marvel had announced at Comic Con last year that there was a new on in the works, with Mahershala Ali playing the part. He had also shared art of himself as Blade in May, although no release date has been announced as yet.
In the v14.20 Fortnite Patch Notes, there were letters marked in red which spells out Daywalker. Blade is a Daywalker as he is a half-vampire who can walk in the daylight without harm, where the majority of other vampires cannot.
In the v14.20 update that took place in Fortnite earlier today, dataminers had found a Blade Bundle, although the contents have not been leaked. There are also three new legacies that were added in the update which are:
Daywalker – Sniped an opponent as Blade
Kraven the Hunter – Hunted the Wolverine
Snikt! – Awakened Wolverine
The first legacy added in this update confirms Blade will be added, it just remains to see when this will happen. As Epic had teased his arrival in the patch notes sent to content creators, it is likely we will be seeing him very soon!
Make sure you turn website notifications on to keep up to date with the latest Fortnite news.