Here's a guide on helping you complete the Fortnite Brutus' Briefing challenges including the locations of the Shadow safe houses and the security plans.
Epic Games changed up the Fortnite challenges system with the release of Chapter 2 Season 2. Players will need to complete part 1 and part 2 of challenges for agents that are included in the Battle Pass.
The first two weeks of Fortnite challenges are Brutus' Briefing, and here's a quick guide that'll help you complete the challenges as quickly as possible.
Fortnite Challenges
Fortnite Shadow Safe Houses
Shadow Safe Houses were added to the Fortnite map at the start of the season. There's a total of five Fortnite shadow safe house locations with the locations listed below:
Alpha Shadow Safe House – Behind Pleasant Park gas station. Entered by using the portable toilet.
Beta Safe House – East of Frenzy Farm, past the river, and near the gas station. Accessed via the portable toilet in the small room.
Charlie Fortnite Shadow Safe House –  Dumpster near the first building east of Craggy Cliffs.
Delta Safe House – North of Misty Meadows outside the larger island in the water on the right. Accessible via the dumpster on the wall of the house.
Echo Shadow Safe House – In the middle of Sweaty Sands and Holly Hedges.
Here's the Fortnite map with all the Fortnite safe houses for shadow marked: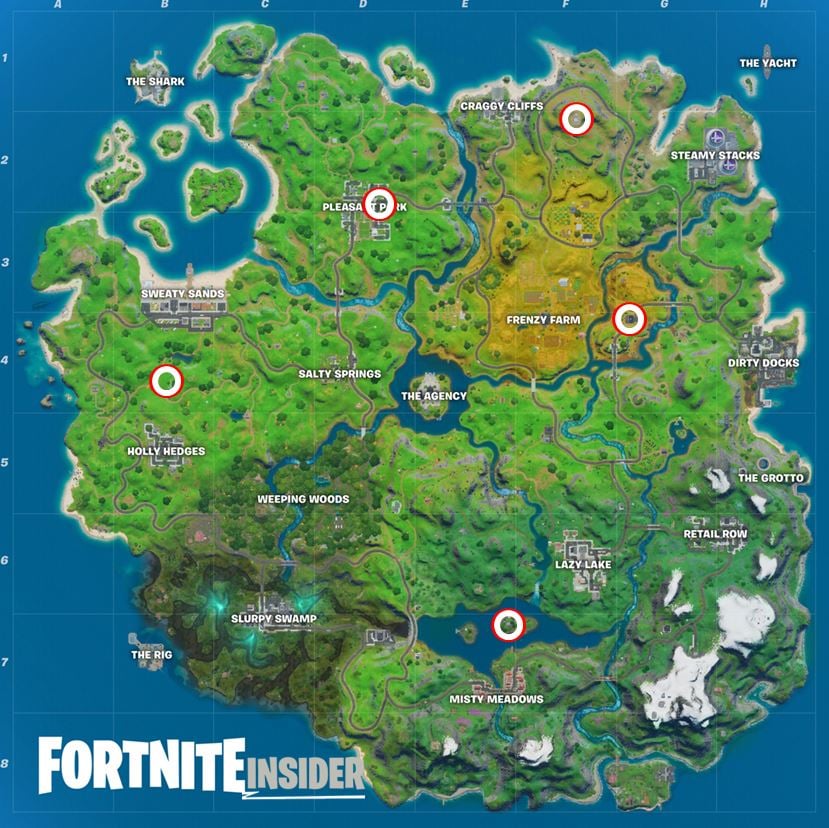 Security Plans Fortnite
Once you've completed eighteen of the twenty available Brutus' Briefing Fortnite challenges, you'll be able to complete a challenge to unlock a shadow or ghost version of a back bling for the Brutus Battle Pass Skin.
The challenge is to steal The Rig, Yacht, or Shark security plans and deliver them to shadow or ghost. The Fortnite security plans at the yacht can be found by landing in the water on the side closest to island on the right side. You'll see a shutter part of the yacht as seen below:
Break open that section of the yacht, make your way through the door on the right, walk forwards until you need to turn right, and on the right hand side you'll see what looks like a server as seen below:
Once you've done this, you'll either need to deliver the security plans to GHOST or SHADOW depending on which version you'll want to unlock and use.
The location of where you'll need to delivery the Fortnite security plans to GHOST is by heading to Steamy Stacks. You'll find a GHOST deposit box for the security plans. Here's the location of the GHOST box to deliver the security plans:
Head north west in Steamy Stacks to find the deposit box for the Shadow security plans: