Here's a look at Fortnite Deadpool challenges for week 2.
The challenges are now live and available to complete!
Epic Games introduced a brand new season along with a new Battle Pass. To everyone's surprise, Deadpool was announced as the not so secret skin for the season. We still don't know when the Fortnite Deadpool skin will be available to unlock, but we do know we'll get two weekly challenges to complete.
The first week of Deadpool challenges required players to find Deadpool's letter to Epic Games and "Don't thank the bus driver". These two challenges could be completed within minutes, and it looks like all of the Deadpool Fortnite challenges will only take a couple of minutes to complete.
The week 2 Deadpool challenges will be available shortly, but thanks to dataminers, we know what the two challenges will be ahead of time. Remember, you can view these challenges by heading over to Deadpool's hideout room that's accessible through the vent that can be seen in the HQ.
Simply click on the computer in the hideout room in order to view all of the currently available Deadpool challenges.
Fortnite Challenges – Deadpool Week 2
The two week 2 challenges are available to complete in the HQ and won't take you more than a minute to complete. Here's a look at the challenges and the spray reward you'll get for week 2:
Click the challenges below to view a guide on how to complete the challenge.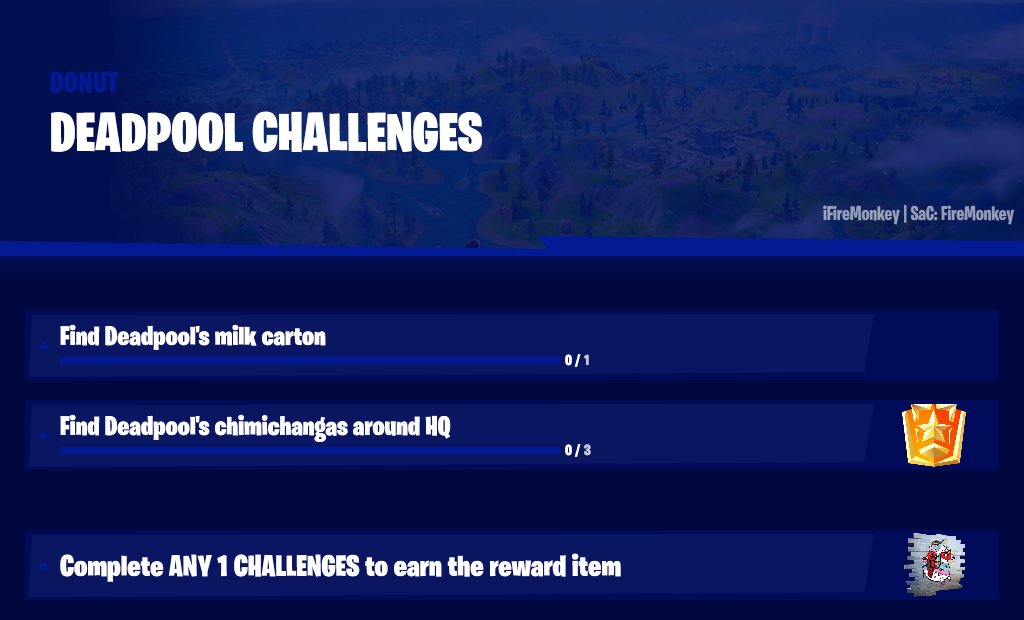 Most players will be completing these challenges as they don't take long and they'll need be to completed in order to get the Fortnite Deadpool skin in a few weeks. However, there is a spray reward for completing the week 2 challenges.
The name of the spray is called "Ride The Corn!" and is of uncommon rarity. Here's a look at the spray reward:
We've created guides for today's two challenges which you can find linked below.
Along with the Deadpool challenges, there's ten new challenges for Brutus' Briefing that's available to complete. Once you complete eighteen of the available twenty challenges, players will be able to select a ghost or shadow version of the skin. You'll also be able to unlock a back bling for the skin by completing an additional challenge.