The Fortnite Challenges for Week 2 are now available for Chapter 2, Season 3. Here are all the seven challenges you will need to complete.
New challenges are released every week in Fortnite Battle Royale and this season, there are seven challenges that are available to complete each week. Completing these challenges will award you with 35,000 XP each, making a total of 245,000 XP for completing all challenges.
There was some confusion as to when the challenges will be releasing as the season started on a Wednesday, but challenges will be released every Thursday 2pm BST for the rest of the season.
Fortnite Week 2 Challenges
The challenges for Fortnite Chapter 2, Season 3 (Season 13) are now available to complete and here are the challenges:
Use different Ziplines at The Authority (8)
Search Chests or Ammo Boxes at Holly Hedges (7)
Score a goal on the soccer pitch at Pleasant Park (1)
Eliminations at Lazy Lake (3)
Headshot Henchmen at The Fortilla (20)
Gather or Consume Foraged Items at The Orchard (5)
The majority of these challenges are very easy and self-explanatory so guides are not necessary to help you to complete them, but we have created a guide for the Deadpool floaties at the Yacht, so if you need a detailed guide on the floaties whereabouts, you can click on the challenge above or here.
There is also a new challenge that has been released for the Aquaman challenges, which is to use a Fishing Pole to ride behind a Loot Shark at Sweaty Sands. This season, there is also a builable umbrella Glider called Brella, which is unlocked at Level 5 of this seasons Battle Pass. A new challenge has just been unlocked, where you will need to Outlast 500 players in Solos, Duos, or Squads. Completing this challenge will allow you to unlock a color for the Topper you have selected.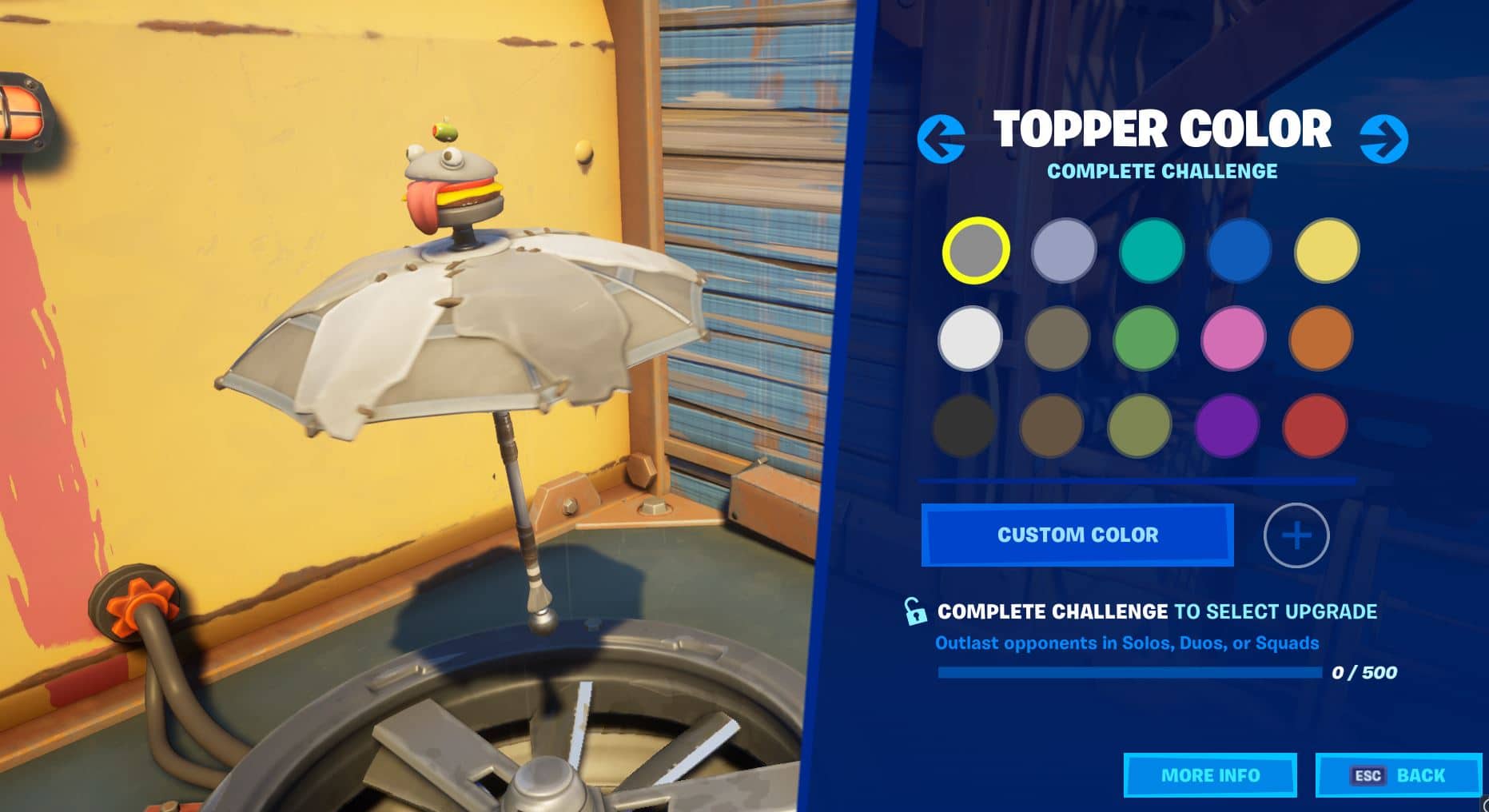 Remember, once you have finalized you decision, you cannot go back and this will be permanent so you must be sure of your selection before confirming.