Here's all Fortnite chapter 2 season 5 week 7 xp coins on the map.
In previous Fortnite chapter 2 seasons, we've had XP coins at the start of the season. However, gold coins have usually come in a few weeks after the season has started. We've not had any XP coins in Fortnite chapter 2 season 5 yet, but we have been tasked with burying a blue coin in Pleasant Park.
We've also had the chance to level up by completing the Operation Snowdown challenges as well as completing the common, rare, epic, and legendary quests. However, players have been waiting for xp coins to be added back into the game since it was leaked that they would eventually make a return in season 5.
In yesterday's v15.20 Fortnite update, Epic Games finally added XP coins in Fortnite season 5 for week 7. For Fortnite week 7, we have one four green xp coins, three blue xp coins, two purple xp coins, and one gold xp coin.
We have a slight change to the blue xp coins this season. Players no longer need to destroy an object in order to see and collect the coin. Apart from that, the coins will work as they have done in previous seasons.
Fortnite Week 7 XP Coins Season 5 All Locations
Epic Games have decide to place all the blue xp coins in water this week and place the purple xp coins on mountains or hills.
The gold xp for this week is located next to the Razor Crest which you can find near the middle of the map in the sand biome. The green coins are scattered across the left side of the map with three of them close to the edges of the map.
Here's a map with all the Fortnite week 7 XP coin located in season 5 thanks to Twitter user Iannzits: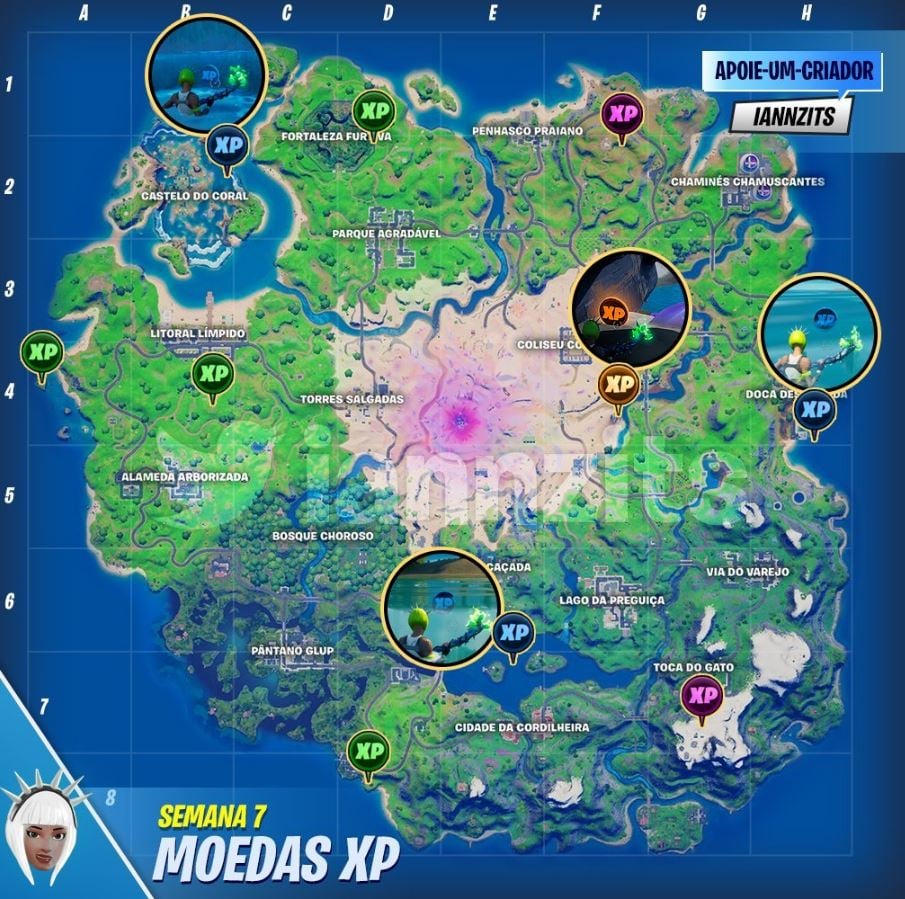 We'll be getting xp coins for the rest of season 5, so be sure to check back for all your challenge and xp coin guides along with all the latest Fortnite news and leaks.