An image is doing the rounds on Twitter that appears to be the Fortnite chapter 3 season 3 Battle pass featuring the skins that'll be available in the new season.
We're less than two weeks away from the new season of Fortnite, chapter 3 season 3. Before the launch of a new season, we usually get several leaks just before the servers are back up.
Usually, the Battle Pass skins get leaked by either PlayStation, Xbox, or Nintendo with the stores updating images for the new season ahead of time. Images then circulate on social media, ruining all the new cosmetics that'll be available.
It looks like the Fortnite chapter 3 season 3 Battle Pass skins have been leaked ahead of time. We're not sure how accurate the image circulating on Twitter is, but if you're not aware of one of the collaboration skins that's guaranteed to be in the season 3 Battle Pass and don't want any spoilers, navigate off this article.
For those looking for more information on chapter 3 season 3 leaks, we've shared some details on the new Battle Pass below.
Fortnite Season 3 Chapter 3 Battle Pass Skins Leak
Popular Fortnite leaker, ShiinaBR, leaked a few weeks ago that Darth Vader will be in the Fortnite chapter 3 season 3 Battle Pass. It's highly likely the skin will be unlockable at tier 100, but nothing has been confirmed.
Indiana Jones & Darth Vader Fortnite Skins
The leaked image that's circulating among the Fortnite player base also includes an Indiana Jones skin along with two female skins, a masked skin, and a skin called Snap which players will need to assemble.
The Fortnite Crew skin also looks like it's been leaked, and it resembles the Mecha robot. Here's a look at the Fortnite season 3 Battle Pass: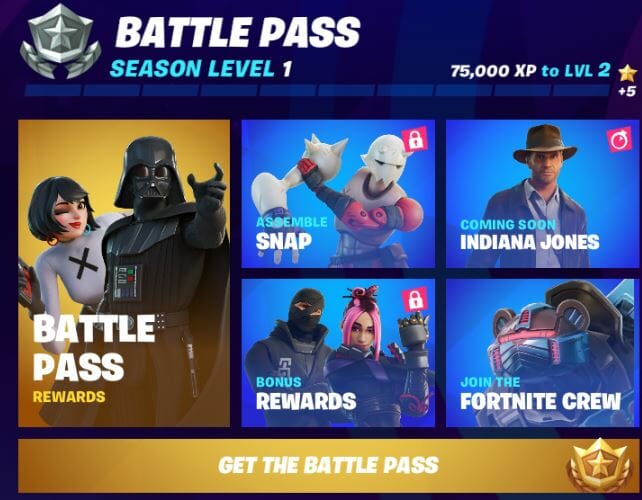 Again, we can't verify the authenticity of the above image, but data miners believe that it's real. We'll have to wait for the new season to launch next weekend to find out.