Here's the location of glitched foraged items for the consume glitched forage items challenges/objectives.
For the Junk Storm limited time mission that just went, and for part of today's Blockbuster mission objectives/challenges, players can consume Glitched Foraged Items. These were only recently added to Fortnite Battle Royale in the v10.10 content update that was released last week.
The Glitched Foraged Items were added as the rift beacon that was placed where the soccer stadium used to be managed to explode, which got rid of the soccer stadium, creating a hole. This is where you'll be able to find glitched foraged items. They are named glitched foraged items as they'll constantly change into different foraged items, which includes apples, mushrooms, coconuts, peppers and hop rocks. Originally, there was also shadow stones, but they were disabled due to an issue.
Fortnite Glitched Foraged Items Location
You'll find all of the glitched foraged items all in the same place, which we've marked on the map below:
Here's what the location looks like and how the glitched foraged items look like in-game: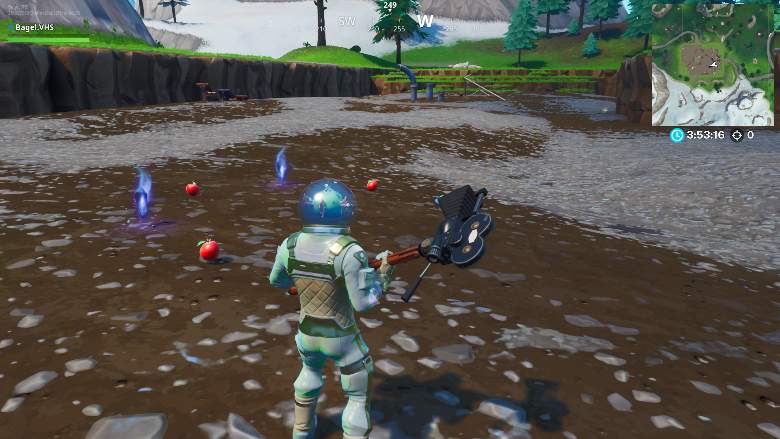 In order to complete challenges such as today's Blockbuster "consume fruit, mushrooms, or glitched foraged items" challenge/objective, players just need to land here and consume them. It's probably the best place to complete the challenge as there's so many foraged items.