Here's how to find and where cosmic chests are in Fortnite along with the possible loot you can get from them.
Fortnite season 7 in chapter 2 introduced a battle pass that includes Rick Sanchez from Rick & Morty as well as the Superman secret skin that will be available in week 9 of the season along with other cosmetics and skin styles.
We have new features including flyable UFOs, new alien tech weapons, and a new battle pass system where you can unlock the cosmetics you want in the order you want (although that's not completely true).
We also have a new type of chest, Cosmic chests. Here's everything you need to know about them including where to find them, how you open them, and what kind of loot they'll give you once opened.
All Cosmic Chests Locations in Fortnite
The first thing you'll need to know about cosmic chests in Fortnite is that they only appear in Duos, Trios, and Squads. So, if you're playing Solo, you won't find cosmic chests spawning anywhere on the Fortnite map.
According to the information we have right now, the cosmic chests will only spawn in the first three circles. When a Fortnite cosmic chest spawns into the game, you'll actually see it on the map. Here's what a cosmic chest looks like when it's spawned and marked on the season 7 map.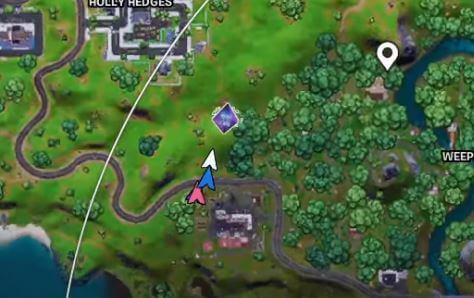 How to Open Them – Smashing Weak Spots
When you go up to the chest, you have a total of five minutes to open it before it disappears. It will only activate once all your team members are near the chest. Once you are all close to the chest, it will activate and you'll get a notification on the screen.
In order to open a cosmic chest, you'll need to hit or smash the weak point. You'll need to get your pickaxe out and wait for your team. You'll get a purple link to the chest which means it's your turn to hit it. Once you go up to the chest, you'll see a weak point that you'll need to smash just like when you hit a structure.
At points during opening the chest, the purple link will link to your entire team, so you'll all near to start hitting the weak points as seen below.
The chest will give you rare, epic, and legendary weapons as well as shields. According to data-miners, you also have the chance of getting either 1, 2, or 3 alien artifacts along with gold bars and 215-1050 season XP.
There's a chance that in a future update, cosmic chests will also provide players with the chance of getting battle stars. However, there's also a chance that the feature has been scrapped as mentioned by data-miner Hypex.