New information regarding the upcoming monthly Fortnite subscription called "Fortnite crew subscription" has been leaked by data-miners. Here's what we know including what the first pack will be, the price, and the perks.
Update: Epic Games have officially announced the crew pack.
A month or so ago, data-miners looked into the new file strings in a patch update to discover that Epic Games planned to release a monthly Fortnite subscription. This was later confirmed when players started sharing a survey they were seeing after playing a Fortnite game asking how much they'd be willing to spend on a Fortnite monthly subscription.
There were other smaller details that were released by data-miners, but it went quite on any new information until now. Some of the Fortnite chapter 2 season 5 battle pass skins have been leaked by data-miners, and we also now know the cost of the Fortnite crew subscription, what the features/benefits will be, and what the first bundle will be upon release.
When it was first leaked, this is the placeholder image that data-miners leaked: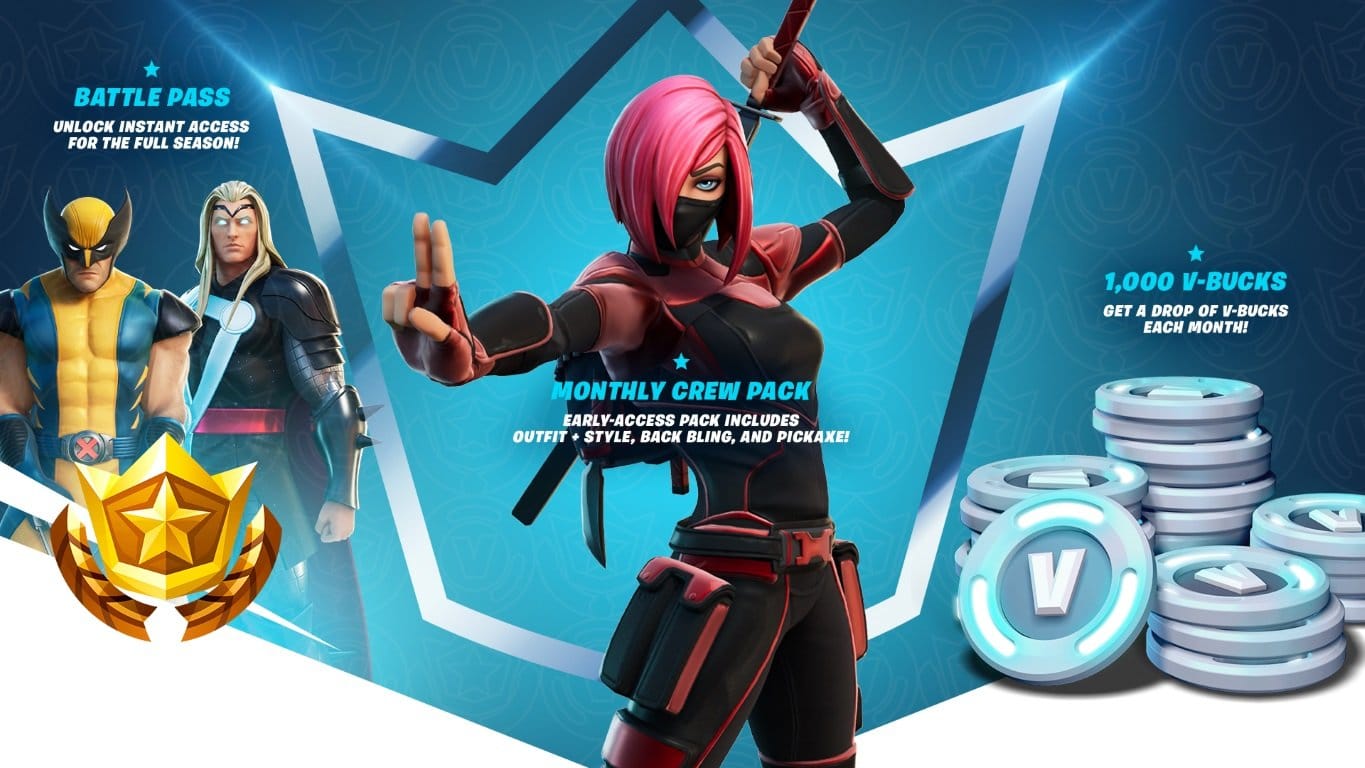 However, popular data-miners including Firemonkey, Shiina, and Vasttblast have now leaked all we need to know about the monthly subscription service.
Fortnite Crew Monthly Subscription Price
According to data-miners, the cost of the Fortnite crew subscription will be $11.99. We'll need to wait on the price for other regions.
Release Date
The Fortnite crew subscription will be available on December 2nd with the arrival of Chapter 2 Season 5.
Features – Free V-Bucks, skin, battle pass and more
Here are the features players will get:
Battle Pass Included for the full Season – As a member of the Fortnite Crew, you'll always have access to the current season's Battle Pass!
1,000 V-Bucks Each Month – Fortnite Crew members will receive 1,000 V-Bucks every month. Spend it on your favorite Item Shop content!
Get A New Monthly Crew Pack! – Get an exclusive Fortnite Crew Pack, an always-new Outfit Bundle that only Fortnite Crew members get.
Galaxia Cosmos Set
The first pack releasing will be Galaxia. It'll include the Cosmos Galaxia Fortnite skin as well as the Cosmic Llamcorn pickaxe and fractured world back bling.