Epic Games released Season 7 of Fortnite Battle Royale on Thursday, and Epic have started hiding the majority of the Fortnite skins and cosmetics in pak1000 files, making it impossible to leak. However, a few skins were left unhidden and were leaked on the day of the season 7 release. However, none of the newer skins are in the item shop today, instead the popular Christmas themed Fortnite skins that were released last year are available instead, Nog Ops and Yuletide Rager. Here is everything that's available in the Fortnite store on the 8th/9th December 2018:
Fortnite Item Shop – 08/12/2018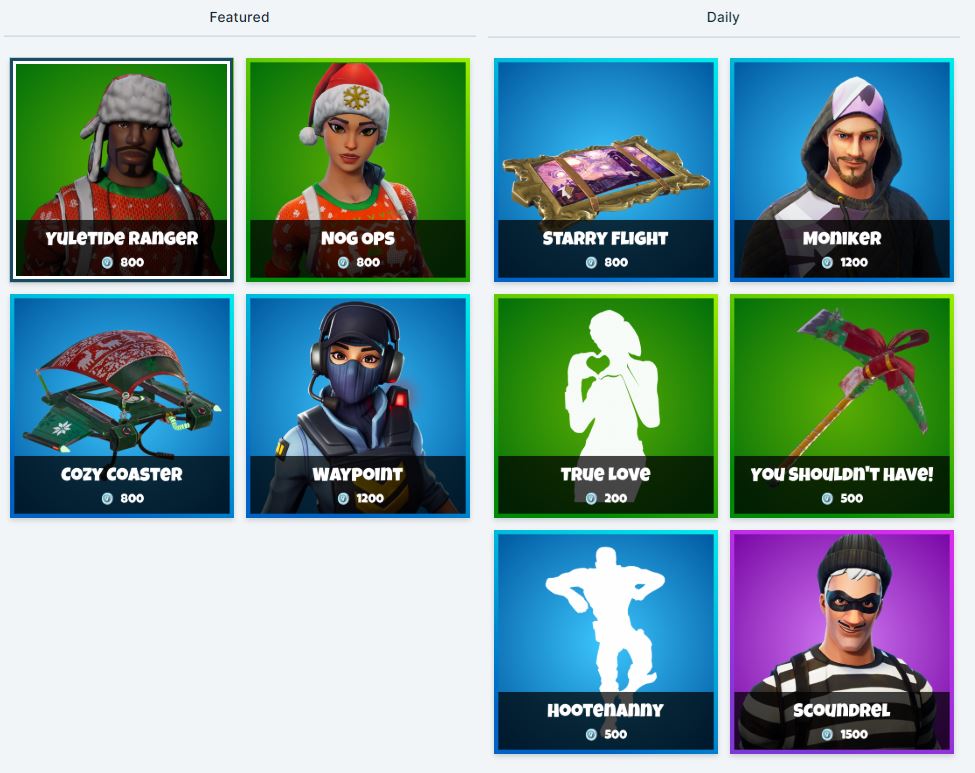 Featured Items
Yuletide Ranger Skin (Uncommon) – 800 V-Bucks
Nog Ops Skin (Uncommon) – 800 V-Bucks
Waypoint Skin (Rare) – 1,200 V-Bucks
Coazy Coaster Glider (Rare) – 800 V-Bucks
Daily Items
Starry Flight Glider (Rare) – 800 V-Bucks
Moniker Skin (Uncommon) – 1.200 V-Bucks
True Love Emote (Uncommon) – 200 V-Bucks
Hootenanny Emote (Rare) – 500 V-Bucks
Scoundrel (Epic) – 1,500 V-Bucks
If you'd like to see each individual cosmetic, the number of occurences, descriptions of each skin, and the sets they're in, head over to our item shop database here.
Let us know in the comments section what you bought from the store.