Fortbytes are a new set of challenges introduced in Fortnite Season 9. A new challenge is unlocked each day, and a new challenge is now available to complete. Here's the location of Fortbyte 08 (8) – Found within Junk Junction.
We've had several new Fortbyte challenges release since the launch of Fortnite Season 9, all of which require players to collect in game.
Yesterday's Fortbyte challenge required players use the Rox Season 9 Battle Pass skin and access the top of the stunt mountain in order to collect Fortbyte 64. Previous challenges have also required players to use a certain Battle Pass skin or spray, ensuring Fortbyte challenges are slightly different each day.
A new challenge has been unlocked for today which can be seen below:
Fortbyte 08 – Found within Junk Junction
Here's the location of Fortbyte 08
FORTBYTE 08 LOCATION – Found within Junk Junction
Find our Fortbyte guides and videos helpful? Use our Support-A-Creator code "FORTNITE-INSIDER" in the bottom right of the item shop if you want to support us.
As given away by the challenge/task name Fortbyte 08 (8) can be found within Junk Junction. These types of tasks can be a little tricky as there's no other hint provided apart from the location.
We've taken the guess work out of the challenge for you and we've marked the location where Fortbyte 08 will be which can be seen below. If you'd like to check out our YouTube video on the location, scroll to the bottom of the post.
Here's the exact location of Fortbyte 08: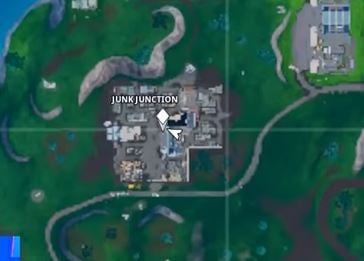 Fortbyte #08 can be found in the main building at Junk Junction, with Fortbyte #08 hovering over a mattress in the corner as seen below:
Here's a video on how to collect Fortbyte 08 – Found Within Junk Junction: