There's a new issue for Fortnite players with the friends list glitching and disappearing.
In chapter 1, Epic Games dealt with a number of server issues as the game gained popularity. There were a number of times when the servers would go down and players would have to wait hours in order to play.
Epic provided players with a free Back Bling due to the Fortnite servers being down for more than 14 hours at one point, but there haven't been too many issues since then.
However, a couple of days ago, there were login issues on Fortnite and players were being kicked out of games and not being able to log back into Fortnite. Epic had to take the servers down in order to fix the issue, which they did after a couple of hours.
Now it looks like a large number of players are experiencing another issue with the Fortntie friends list glitch resulting in players friends list disappearing and not being able to invite anyone to their party.
Fortnite Friends List glitch – epic friends disappeared/gone and not showing
If you're experiencing the current Fortnite friend glitch where all your friends have disappeared and not showing, you're not alone. Epic have already stated that they're aware of the issue with party services and friends list and are currently investigating the cause.
As with all issues with Fortnite, Epic can't state how long it'll take for the problem to be fixed. However, in their tweet, they've mentioned that they'll let players know once they've found a resolution.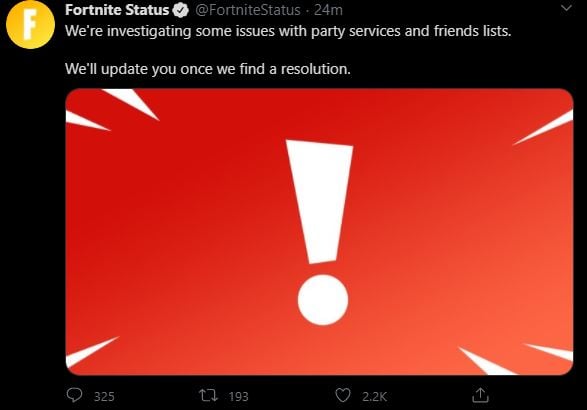 Update: issue fixed.
We'll update this article as soon as Epic fix the issues with party services and friend lists. In the meantime, feel free to head back to the Fortnite Insider home page to check out all the latest news, leaks, guides, and more.
If you're bored, why not complete this quiz and be in with a chance to win a free Fortnite Bhangra Boogie emote code.