Here's where and how you can complete the week 4 Dockyard Deal "deal any damage to opponents by shooting exploding gas pump" mission challenge.
The Fortnite Chapter 2, Season 1, Week 4 mission challenges were released on Thursday at 1 PM GMT. The name of this week's mission is "Dockyard Deal". As is the norm for this season, there's 11 challenges for players to complete.
One of the challenges requires players to deal any damage to opponents by shooting an exploding gas pump. We had a map of the gas stations/pumps on the previous Fortnite map, but we've created a new one for the new map to help complete this challenge.
Fortnite Gas Stations/Pumps locations
As far as we can see, there's a total of six gas stations containing Fortnite gas pumps on the new map. Here are the locations along with map:
A5 – west of Holly Hedges near the edge of the map.
D4 – there's a gas station on the north east side of Salty Springs
D2 – you'll find a gas pump on the east side of Pleasant Park between the grey and green houses.
E2 – South of Craggy Cliffs by a bridge.
F5 – South of Frenzy Farm past the bridge. Gas station near water.
G4 – East of Frenzy Farm and West of Dirty Docks.
How to deal any damage to opponents by shooting exploding gas pumps in Fortnite
Once you've located a Fortnite gas station and a gas pump at a location, it's actually very easy to complete this challenge. You might be thinking you need to wait for an opponent to walk by an exploding gas pump and shoot it in order to complete this challenge, but you don't.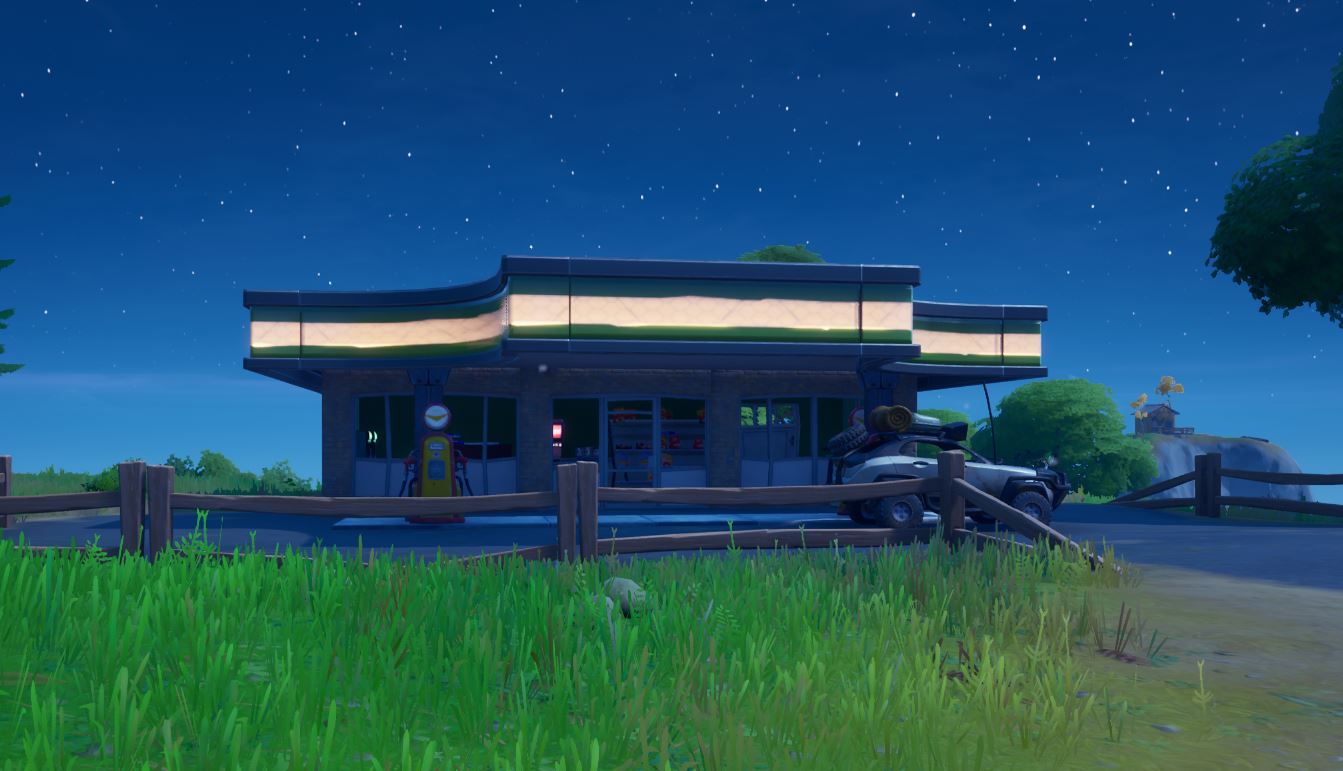 With players knowing this is a challenge, you won't see too many opponents freely walking towards a gas station and exploding gas pump as they'll know there could be someone watching ready to shoot a gas pump.
Instead, players can actually down a player, carry them over to a gas stations gas pump, put them down by it, and then shoot the pump and deal damage to an opponent. Doing it this way makes it much easier to complete the challenge without having to wait around for an opponent to walk past a gas station.
Reddit user Ikcatcher actually posted a clip of him using this method to complete the challenge which you can check out below:
Easiest way to complete the gas pump damage challenge from FortNiteBR
You'll usually find players landing at Salty Springs, so it's probably the best location to get this challenge done. Drop at Salty, try to down an opponent, and carry them over to the gas station and damage hem by shooting the gas pumps.
You can also get this done quickly at Pleasant Park if there's a favourable jump at the popular named location.