Here's the locations of Rebirth Raven, Tarana, Lara Croft, Rebirth Raven, Cluck and Cobb for the new Spire quest/challenge.
Epic Games have been released major patch updates this season every two weeks on a Tuesday. With the new updates, Epic also add in brand new Spire quests for players to complete. Today is no different with three new Spire challenge.
The Spire challenges require players to complete certain rarity of quests, defeat Raz, and talk to a character from a specific list.
In this article, we'll be covering the locations of where to find and gather information on Raz from Tarana, Lara Croft, Rebirth Raven, Cluck, or Cobb.
Where is Rebirth Raven, Lara Croft, Tarana, Cluck & Cobb Fortnite Locations
The five different characters you can talk to in order to complete this challenge as mainly located towards the top half of the map. Thanks to the always reliable FN_Assist Twitter account, we know all of the locations of each character including Rebirth Raven.
Here's a map showing all of the locations of the characters you can gather information from in order to complete this challenge:
In order to complete this challenge, you only need to talk to one of the specified characters. When you've found one of the characters, you'll see an option most likely on the left when interacting with the character called "The Spire".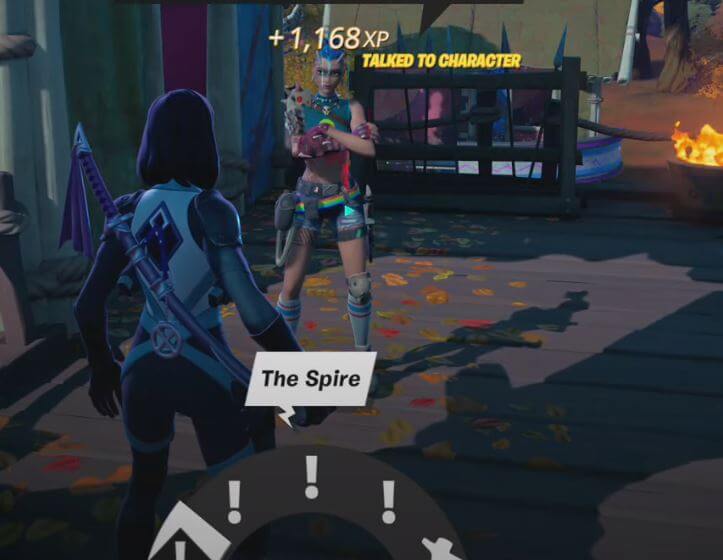 From there, you just need to keep clicking/pressing continue as the character continues their dialogue. Once that's done, you'll have completed the challenge.
We'll be covering the how to defeat Raz in a seperate article. If you need help with that, be sure to check back on our homepage for the guide along with all the latest news and leaks for Fortnite Battle Royale.