Here is the exact location of where you can find the letter 'R' in Fortnite Battle Royale that is hidden in the Forged in Slurp Loading Screen.
This season, Epic are hiding letters in the Fortnite Battle Royale Loading Screens as Battle Stars are no longer needed to progress in the Battle Pass. As this is the third set of Missions, players will need to find the letter 'R' of FORTNITE.
This article will show you where the letter is hidden in the Loading Screen and also the exact location of the hidden letter that can be found in the Battle Royale map. Remember, you will have needed to have completed at least eight objectives/challenges of the Forged in Slurp Mission in order to have unlocked the Loading Screen.
FORTNITE C2:S1 Forged in Slurp LOADING SCREEN
As previously mentioned, completing eight objectives of the Forged in Slurp Mission will unlock the Loading Screen for this week, which can be seen below:
As with all the Loading Screens this season, you can actually see the clue as to where the hidden letter is located, in this case the letter 'R'. We have highlighted the letter in the image below if you cannot see it:
FORTNITE HIDDEN 'R' MAP LOCATION
The Loading Screen this season pretty much show you the exact location of the letter, but as the map is brand new it could be hard to find. The letter 'R' can be found right by the lake in Slurpy Swamp, under the pipe that can be seen in the loading screen. Here is the exact location marked on the map: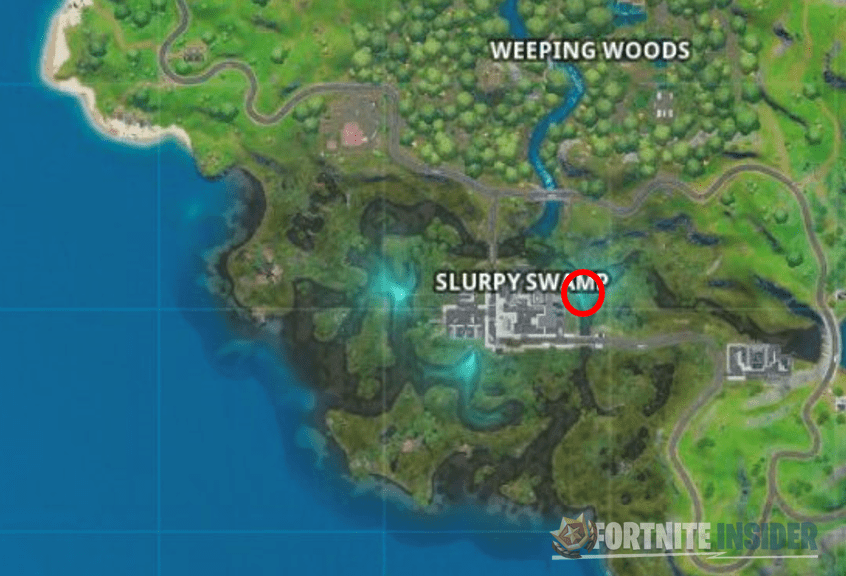 Simply interact with the letter when you see it in order to complete the challenge. You will only see the letter once you have the Loading Screen unlocked.
Remember, the mystery Skin for this season is awarded to players who have collected all the letters from the Loading Screens in Chapter 2: Season 1, so make sure you complete them as soon as possible to get a free Skin.