One of the week 7 Fortnite challenges requires players to drive a car from Sweaty Sands to Misty Meadows in less than 4 minutes without getting out. Here's the best and fastest way to complete the challenge.
Epic also try to change up the challenges every season by requiring players to complete different tasks. One of the new type of challenges they've added this season requires players to drive from one named location to another within a specific time frame without getting out of the car.
This type of challenge is fairly easy if you know the best place to drop to get a car, where to fill up, and the best route to take in order to complete the challenge as quickly as possible. We've created a guide to help you complete the drive a car from Sweaty Sands to Misty Meadows challenge.
Fortnite Drive from Sweaty Sands to Misty Meadows
In order to start of this challenge, you'll want to grab yourself a car full of gas. There's a gas station in Sweaty Sands where you'll find a car which you can fill up straight away and set off for the challenge.
Here's the location of the gas station in Sweaty Sands: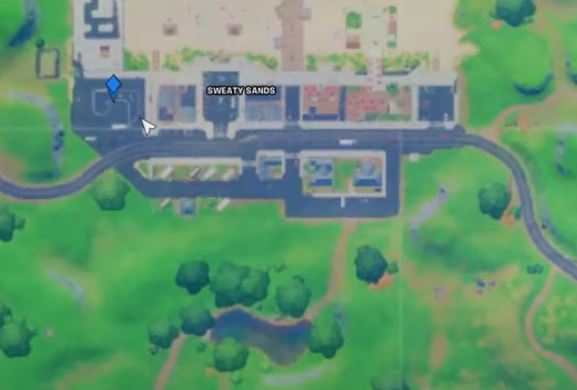 You can find a car at the gas station which can be any type of car. If you have a whiplash, you'll obviously be able to complete this challenge much quicker. If you do want a whiplash, you can always drop on the south side of Sweaty Sands at the car park where you should be able to find a whiplash.
We've marked the best route to take, which is through Salty Springs and Weeping Woods. It might be best to get a truck for this 'drive from' challenge as you'll have to drive over grass taking the quickest route.