Location of where to find and destroy a Cloaked IO Build Jamer in Fortnite chapter 3 season 2.
Players are now able to log in to Fortnite now that most of the server issues have been resolved. The servers came back up from scheduled maintenance a few hours ago but crashed shortly after.
Epic Games deployed a queue with some players having to wait more than an hour to play the game but the issue is still being investigated. Those of you that have had a chance to get past the log-in screen will have noticed the challenge system.
It's the same as last season but there are two new sets of challenges, rebuilding and boot camp. The boot camp challenges are easy to complete and allow players to get accustomed to the new features including mantling and tactical sprint.
The rebuilding challenges require players to complete numerous different tasks. One of them requires players to find and destroy a cloaked IO build jammer and here's how and where to complete it.
Fortnite Cloaked IO Build Jammer Location
The Cloaked IO Build Jammer can be found at the Daily Bugle. It's on the north side of the popular landing location and will appear once you get close to it.
Here's the location where you can find the IO build jammer: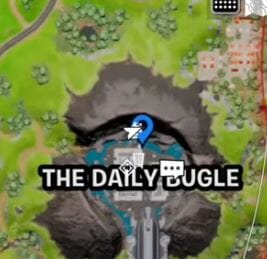 Destroy the jammer by shooting at it or pickaxing it. You'll be rewarded with 40,000 season 2 XP once you've done the challenge.
H/T to HarryNinetyFour