Here's the location of Stark Robots and how to make them dance for the week 5 Fortnite challenge.
In the v14.10 Fortnite update, Epic Games added Stark Industries to replace Frenzy Farm. With the addition of the new location, Iron Man was added as a boss along with more Stark robots in Stark industry buildings.
You can also find Stark Robots are the Quinjet Patrol site locations and for one of the week 5 challenges, players will need to make a Stark Robot dance. Here's how you can go about completing the challenge as quickly as possible.
Make A Stark Robot Dance Fortnite
Your best bet to complete this challenge would probably be to land at a Quinjet Patrol Site in order to have a better chance of completing the challenge quickly. If you land at Stark Industries, you'll be landing with a bunch of people and you'll have a higher chance of being eliminated.
There are two different ways in which you make make a Stark Robot dance in Fortnite. The first option is to down at Stark Robot and then hack them by going close to them and pressing whatever your interact button is.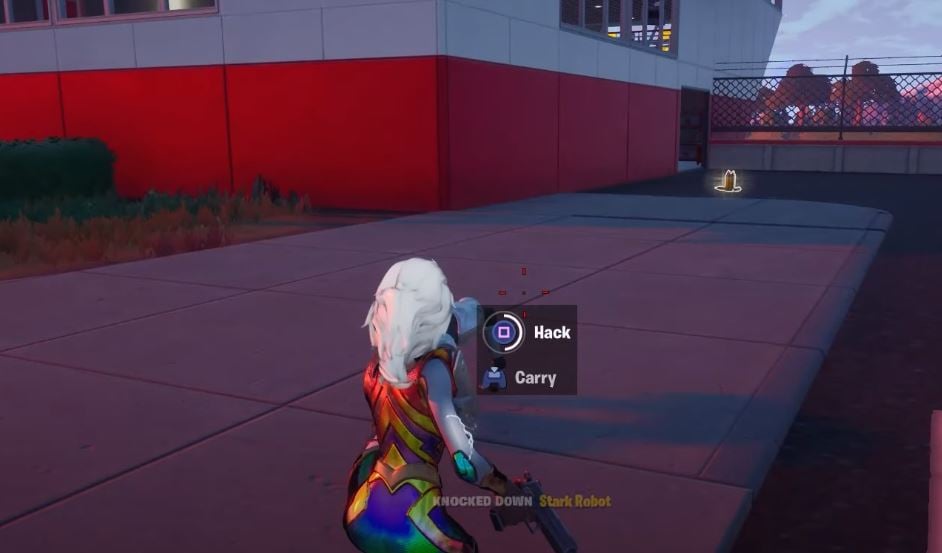 Once you've hacked one, you need to be in front of the Stark Robot with it facing towards you. Simply emote and you'll make a Stark Robot dance. You only need to do this once in order to complete the challenge and earn 25,000 season XP.
The other option is to get a Boogie Bomb and throw it at a Stark Robot. It's definitely a quicker method if you manage to find a Boogie Bomb, but it seems like sometimes even when you throw it directly at the robot, it still won't dance.
Either way, this is a pretty quick and easy challenge for players to complete and if you use the first method, you have an ally to help you distract or deal damage to enemies.