Here's the locations of Ice Boxes in Fortnite in order to complete the "Search Ice Boxes" Winterfest challenge.
It's day 13 of the Fortnite Winterfest Christmas event. Today's unvaulted weapon in the Heavy Sniper Rifle, which will be available for 24 hours. The returning LTM today is solid gold, and players can also open another present in the Winterfest lodge.
As usual, there's a new challenge and reward available today, which you'll need to unlock by searching the holiday stocking in the cabin. Today's challenge and reward can be seen below:
Today's reward is the Polar Renegade spray:
Here's everything you need to know about ice boxes in Fortnite.
Ice Boxes Fortnite
Where and how to find and search
When the Winterfest challenges were first leaked, there was a lot of confusion between two new additions to Fortnite for the holiday season. Epic added both frozen loot and Ice Boxes in the v11.30 update, although they didn't include it in their patch notes (surprise, surprise), so there was no information on them.
Frozen Loot are the large ice cubes that have loot in them, whilst the Ice boxes are the machines that can be searched in order to get loot. Here's what the Ice Boxes look like:
There doesn't seem to be a fixed location of where you can find Ice Boxes in the Fortnite. It seems like Dirty Docks is one of the best places to drop in order to search Ice Boxes as there appears to be a lot of ice boxes that spawn there.
We've created a quick map for the locations of ice boxes which we'll update. We'll also add in-game images of ice boxes, so you get a better idea of where exactly to find and search them.
Dirty Docks
As mentioned previously, Dirty Docks is by far the best place to go to complete this challenge quickly. There's a room on the east side of Dirty Docks in the warehouse which contains up to three ice boxes.
Not many people land at Dirty Docks, and they don't know about the ice boxes that spawn there, so head there to get this challenge done quickly.
From the image below, if you head straight and towards the left, break the metal shutter, and that room will have an ice box to your right as soon as you're in the room, and then one to the right of that as you move further forward in the room, and then finally another two, one to the left of the metal stairs and one to the right.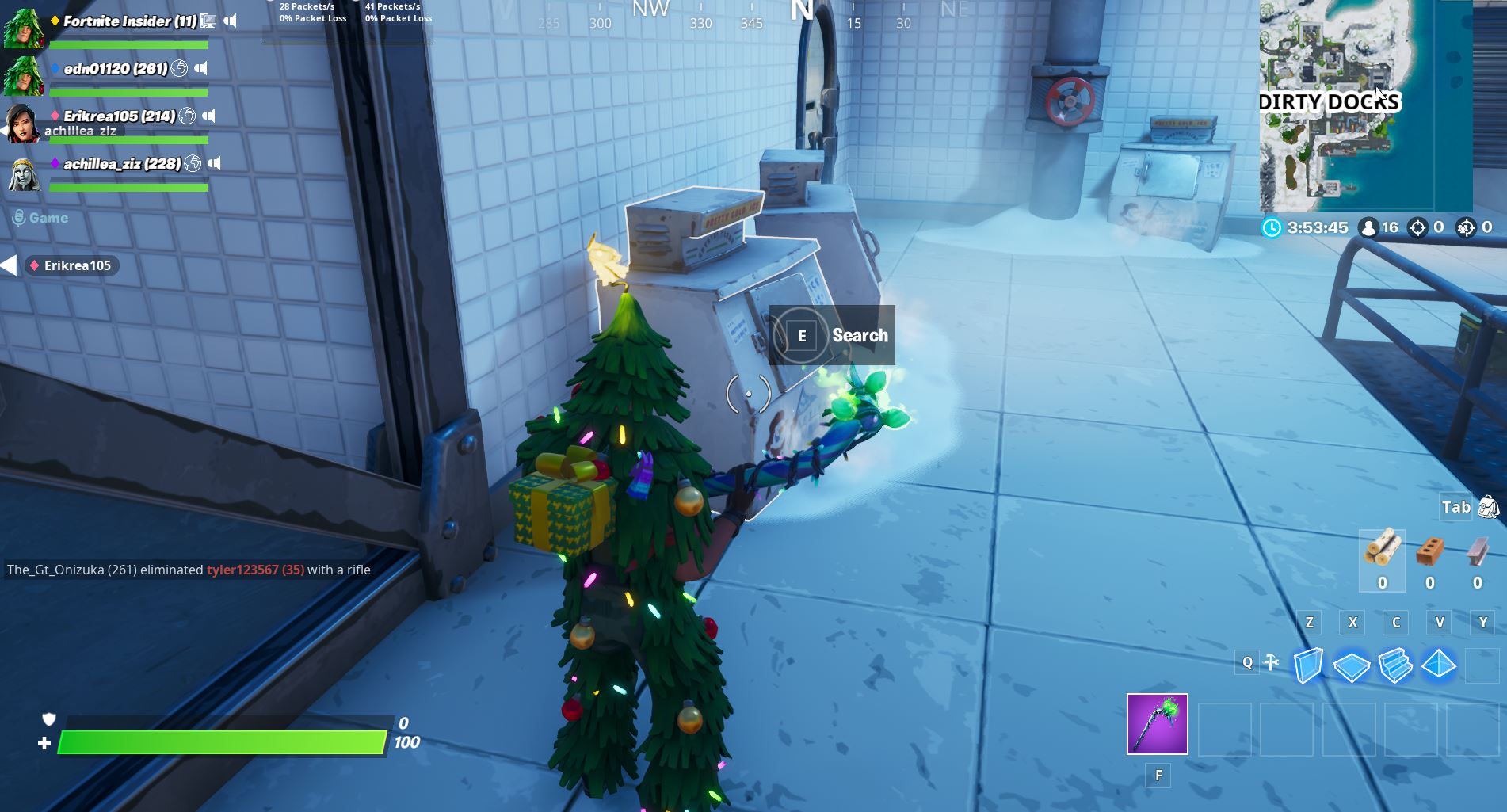 There's really no need for a Fortnite locations map for Ice Boxes due to how many you find at Dirty Docks, but we've included one with some of the other locations.