The Fortnite Item shop has updated to display the featured and daily items for 11th December. You can find everything available in the Fortnite Store below including skins, pickaxes, gliders and emotes.
Yesterday, the Fortnite Item shop had a couple of Christmas skins with the Yuletide Ranger and Nog Ops remaining in the store since they were rotated in the shop by Epic which took everyone by surprise. The store also featured the Servo epic glider and the Archetype skin. A new emote was also released, the Mime Time emote.
Here are all of the cosmetics in the Fortnite Item Shop today: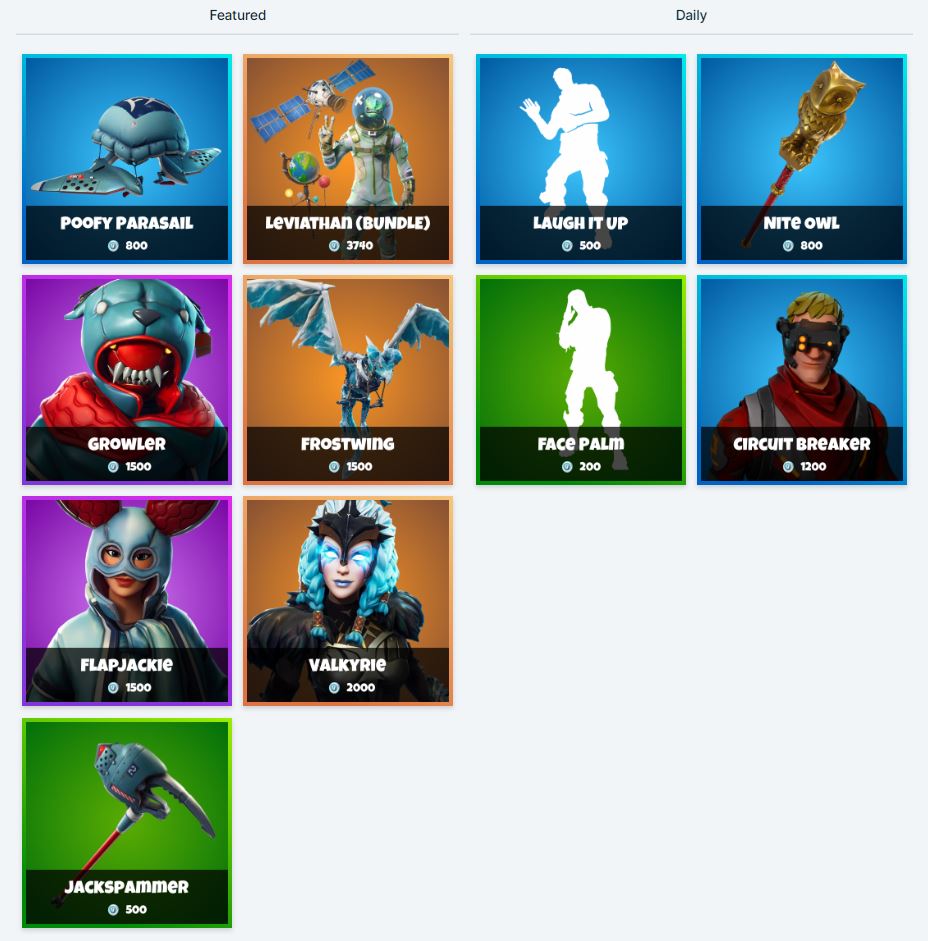 FEATURED ITEMS
Leviathan Bundle (Legendary) – 3740 V-Bucks
Poofy Parsail Glider (Rare) – 800 V-Bucks
Growler Skin (Epic) – 1,500 V-Bucks
Flapjackie Skin (Epic) – 1,500 V-Bucks
Jackspammer Pickaxe (Uncommon) – 500 V-Bucks
Valkyrie (Legendary) – 2,000 V-Bucks
Frostwing Glider (Legendary) – 1,500 V-Bucks
DAILY ITEMS
Laugh it up Emote (Rare) – 500 V-Bucks
Circuit Breaker Skin (Rare) – 1,200 V-Bucks
Nite Owl Pickaxe (Rare) – 800 V-Bucks
Face Palm Emote (Uncommon) – 200 V-Bucks
The Leviathan Skin and the other cosmetics in the set are available as a bundle, something which Epic introduced into the game a few weeks back, but shortly removed due to a bug.