The Fortnite Item Shop has updated twice since the v7.40 Fortnite update. The item shop includes two new Fortnite skins, Heartbreaker and Skully, as well as a new emote, Daydream.
Last night, the Fortnite Item shop didn't update with new cosmetics as the Item shop was going to be updated with new skins once the v7.40 update was released. The Item Shop has now updated twice since the update, originally with the new Heartbreaker skin, Chocollama pickaxe, Skully skin, and the Skully Splitter Pickaxe. The Fortnite Item shop has updated once again with a new emote available, Daydream.
Here are all of the cosmetics available in the Item shop right now:
FEATURED ITEMS
Heartbreaker Skin (Rare) – 1,200 V-Bucks
Skully Skin (Rare) – 1,200 V-Bucks
Chocollama Pickaxe (Uncommon) – 500 V-Bucks
Skully Splitter Pickaxe (Rare) – 800 V-Bucks
DAILY ITEMS
Pink Flamingo pickaxe (Epic) – 1,500 V-Bucks
Snorkel Ops Skin (Rare) – 1,200 V-Bucks
Kiss Kiss Emote (Rare) – 500 V-Bucks
Petunia Glider (Uncommon) – 500 V-Bucks
True Love Emote (Uncommon) – 200 V-Bucks
Daydream Emote (Epic) – 800 V-Bucks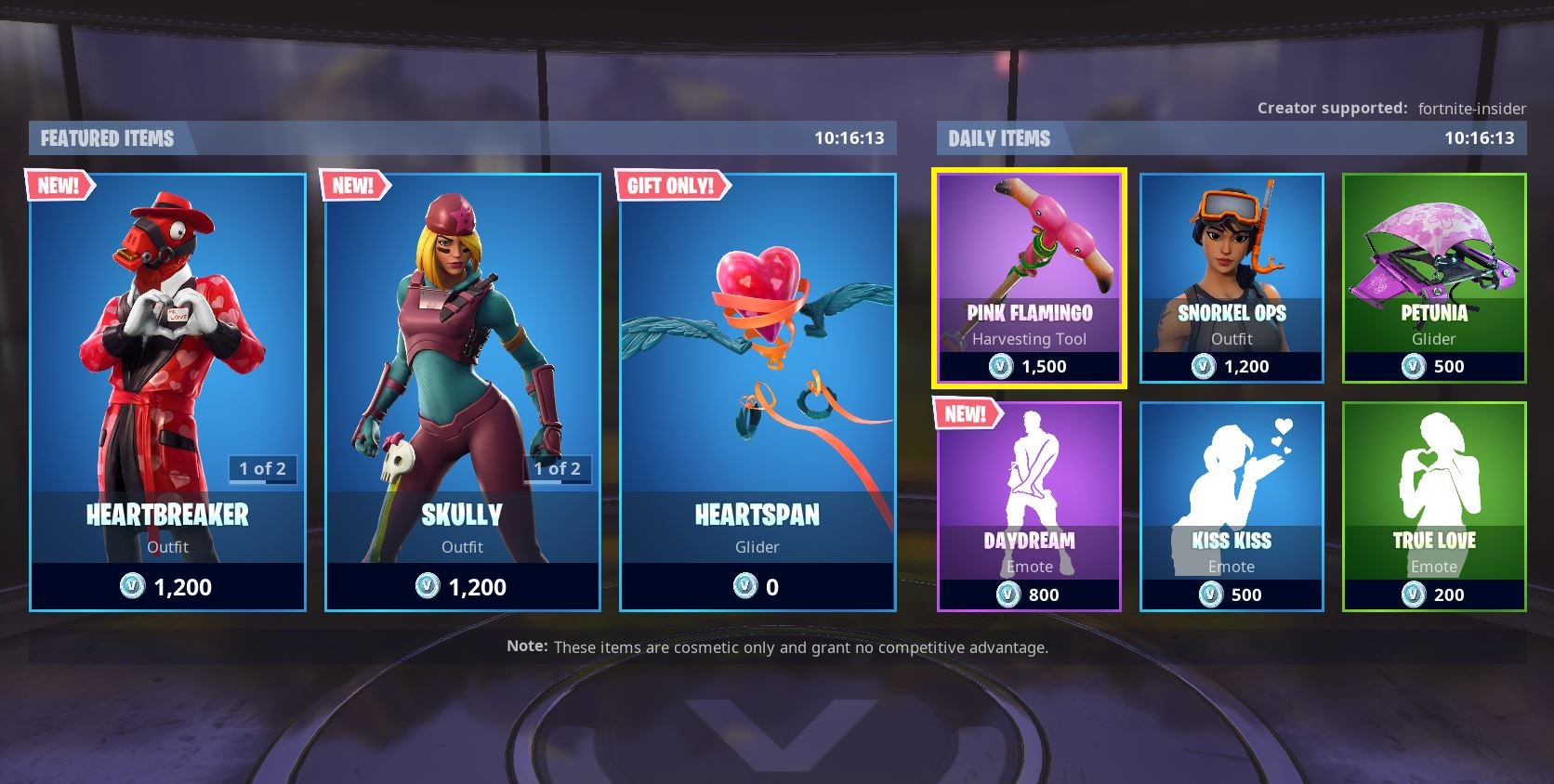 The Heartspan glider is available for free if it's gifted to you. In order to gift an item, you'll need to have 2FA turned on.
If you'd like to support us, use our support-a-creator code "FORTNITE-INSIDER" in the item shop.