The Fortnite Item Shop has updated for the 16th April. Here are all of the skins, pickaxes, emotes and gliders available today. 
The Fortnite Item Shop has just updated to display all of the cosmetics available to purchase in today's store. Yesterday's item shop featured the Snowstrike, Snowfoot, and Badolette Fortnite skins.
The daily items in yesterday's shop were Cloaked Star, Nitelite, Work it out, Marathon Music Track, Iceicle Pickace and Digital Grayscale wrap.
The Marathon Music Track was the first track to be sold in the item shop. The Digital Grayscale wrap was leaked in the v8.30 update and made it's first appearance.
Today's Item shop features the return of the Powerchord skin, and the previously leaked Switchstep emote skin is finally available.
Here's all of cosmetics available in the store today:
FEATURED ITEMS
USE SUPPORT-A-CREATOR CODE FORTNITE-INSIDER IN THE SHOP IF YOU'D LIKE TO SUPPORT US.
FlapJackier Skin (Epic) – 1,500 V-Bucks
Growler Skin (Epic) – 1,500 V-Bucks
Poofy Parasail Glider (Rare) – 800 V-Buck
Jackspammer Pickaxe (Uncommon) – 500 V-Bucks
Sea Wolf Skin (Rare) – 1,200 V-Bucks
Buccaneer Skin (Rare) – 1,200 V-Bucks
High Seas Pickaxe (Rare) – 800 V-Bucks
Power Chord Skin (Legendary) – 2,000 V-Bucks
Anarchy Axe Pickaxe (Rare) – 800 V-Bucks
Stage Dive Glider (Rare) – 1,200 V-Bucks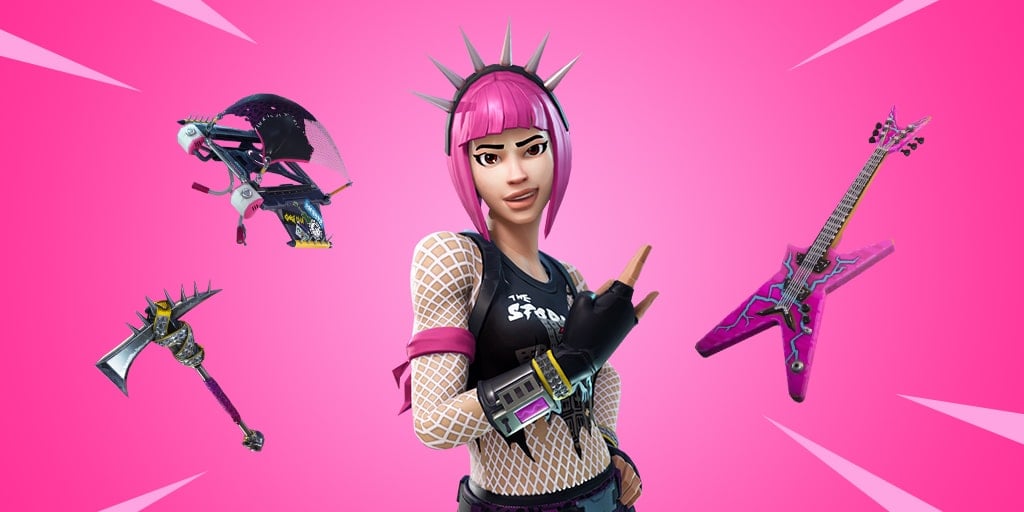 DAILY ITEMS
Munitions Expert Skin (Rare) – 1,200 V-Bucks
Sunflower Skin (Uncommon) – 800 V-Bucks
Switchstep Emote (Rare) – 500 V-Bucks
Drum Major Emote (Rare) – 500 V-Bucks
Gold Digger Pickaxe (Rare) – 800 V-Bucks
Sun Sprout Back Bling (Uncommon) – 200 V-Bucks
You can see the new Switchstep emote in action below:
Switch things up!

Visit the Item Shop to purchase the new Switchstep Emote along with the Scallywags Set. pic.twitter.com/Ji0mkJtyY7

— Fortnite (@FortniteGame) April 16, 2019