The Fortnite Item shop has updated to displays new Fortnite skins and other cosmetics for 23rd March. We've listed all of the items available in the shop today. Today's shop features a brand new, unlekaed Malice Fortnite Skin and the Burning axe Pickaxe.
UPDATE: Check out the shop for the 23rd March HERE
The Fortnite Item Shop is updated daily to display different skins, pickaxes, gliders, emotes and (sometimes) wraps available to purchase. Yesterday's item shop featured recently released Psion and Axiom skins. Epic also made the Tricero Ops, Rex and Sanctum skins available as well as the cosmetics that complete their respective sets.
The Waypoint skin also made a return to the shop after the new style without the mask was released by Epic in the v8.01 update. Drum Major was a new addition to the shop, an emote that was originally leaked in the v8.10 files. Rivet was a surprise addition, a wrap which was added in the v8.11 update. Usually small updates that are known as content updates don't have any new cosmetics added, but this wasn't the case for this week's update.
Today's item shop features a surprise additon, the Malice Fortnite skin and the Burning Axe Pickaxe. These cosmetics have not been leaked by dataminers in the past, and on first looks, are one of the best recent cosmetic releases by Epic.
Here's all of cosmetics available in the store today:
FEATURED ITEMS
Use Support-a-Creator Code FORTNITE-INSIDER in the shop if you'd like to support us.
Malice Skin (Legendary) – 2,000 V-Bucks
Burning Axe Pickaxe (Epic) – 1,200 V-Bucks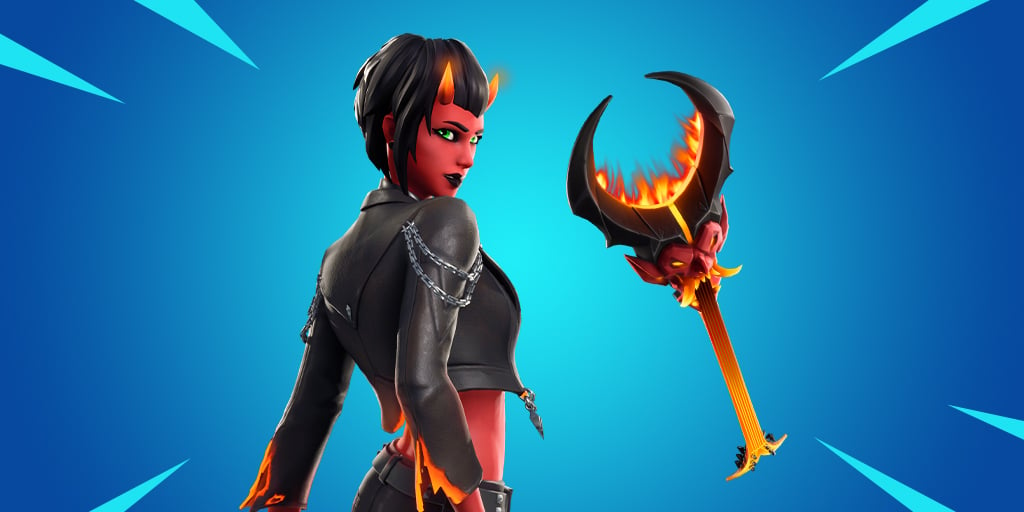 DAILY ITEMS
Commando Skin (Uncommon) – 800 V-Bucks
Electro Swing Emote (Rare) – 500 V-Bucks
True Heart Emote (Epic) – 800 V-Bucks
Ice Pop Pickaxe (Rare) – 1,200 V-Bucks
Highrise Assualt Trooper Skin (Uncommon) – 800 V-Bucks
Airlift Glider (Epic) – 1,200 V-Bucks