The Fortnite Item Shop has updated for the 23rd April. Here are all of the skins, pickaxes, emotes and gliders available today. Today's shop features two new wraps, Dino and Triassic.
Update: You can view the new skin in today's item shop, 24th April, here.
The Fortnite Item Shop has updated to display new cosmetics for the 23rd April, 2019.
Yesterday's Item Shop featured the return of the Malice and Sanctum skins, and the previously leaked Heat wrap finally made it's way into the Item Shop.
Other cosmetics from yesterday's shop include the Archetype and Jungle Scout skins, Wiggle and Shaolin Sit-Up emotes, and the Pick Squeak pickaxe and Globetrotter Glider.
You can view today's Fortnite Item Shop below. Be sure to let us know your thoughts on the new cosmetics in the comments section!
Today's Item Shop features two new wraps that weren't leaked by dataminers ahead of time, Dino and Triassic. Both these wraps are uncommon and can be purchased for 300 V-Bucks.
FORTNITE FEATURED ITEMS
If you'd like to support us, use support-a-creator code FORTNITE-INSIDER in the bottom right corner of the Item Shop.
Tricera Ops Skin (Legendary) – 2,000 V-Bucks
Rex Skin (Legendary) – 2,000 V-Bucks
Beef Boss Skin (Epic) – 1,500 V-Bucks
Tomatohead Skin (Epic) – 1,500 V-Bucks
Bitemark Pickaxe (Epic) – 1,200 V-Bucks
Axeroni Pickaxe (Rare) – 800 V-Bucks
Patty Whacker Pickaxe (Rare) – 800 V-Bucks
Pterodactyl Glider (Epic) – 1,200 V-Bucks
Extra Cheese Glider (Epic) – 1,200 V-Bucks
Flying Saucer Glider (Epic) – 1,200 V-Bucks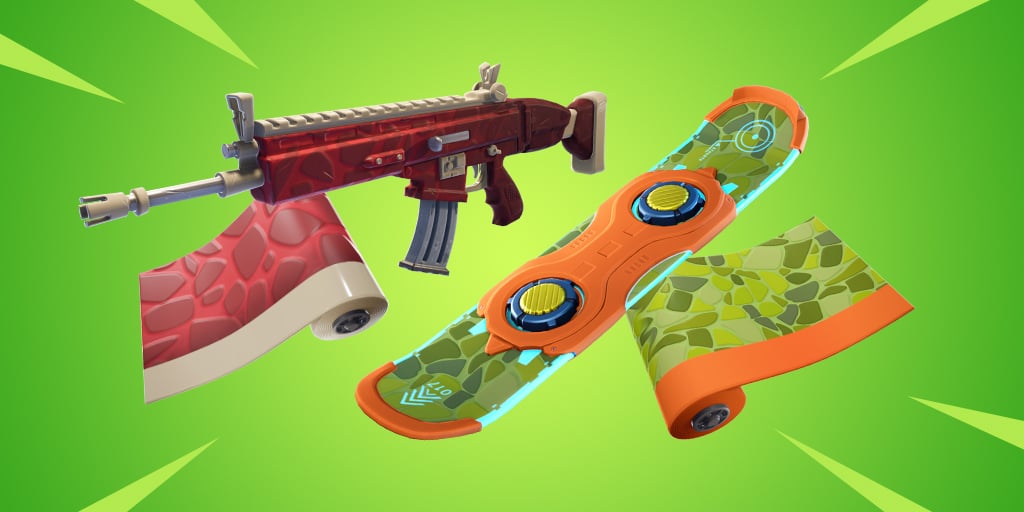 FORTNITE DAILY ITEMS
Scarlet Defender Skin (Uncommon) – 800 V-Bucks
Overdrive Emote (Rare) – 500 V-Bucks
Dynamo Skin (Rare) – 1,200 V-Bucks
Llamacadabra Emote (Epic) – 800 V-Bucks
Dino Wrap (Uncommon) – 300 V-Bucks
Triassic Wrap (Uncommon) – 300 V-Bucks