Here's the cosmetics in the Fortnite Item Shop for the 26th April, 2019. This article includes the Fortnite skins, pickaxes, wraps, emotes, gliders available in the store. Today's shop features the Fortnite Avengers Black Widow skin. 
The Fortnite Item Shop has updated to display new skins and other cosmetics for the 26th April, 2019.
Epic Games updated the Fortnite Item Shop earlier today after maintenance for the v8.50 updated had ended.
To everyone's surprise, Epic Games added the very first Fortnite Avengers skin, Black Widow. The Black Widow set also has the Widow's Bite pickaxe and the Widow's Pirouette emote.
Epic stated in a blog post today that they will be releasing the second Marvel skin set next week, and leaks suggest the second Marvel skin will be Star-Lord.
Here are all of cosmetics available in today's shop:
FORTNITE FEATURED ITEMS
If you'd like to support us, use support-a-creator code FORTNITE-INSIDER in the bottom right corner of the Item Shop.
Black Widow Skin (Marvel) – 1,500 V-Bucks
Widow's Bite Pickaxe (Marvel) – 800 V-Bucks
Widow's Pirouette Emote (Marvel) – 200 V-Bucks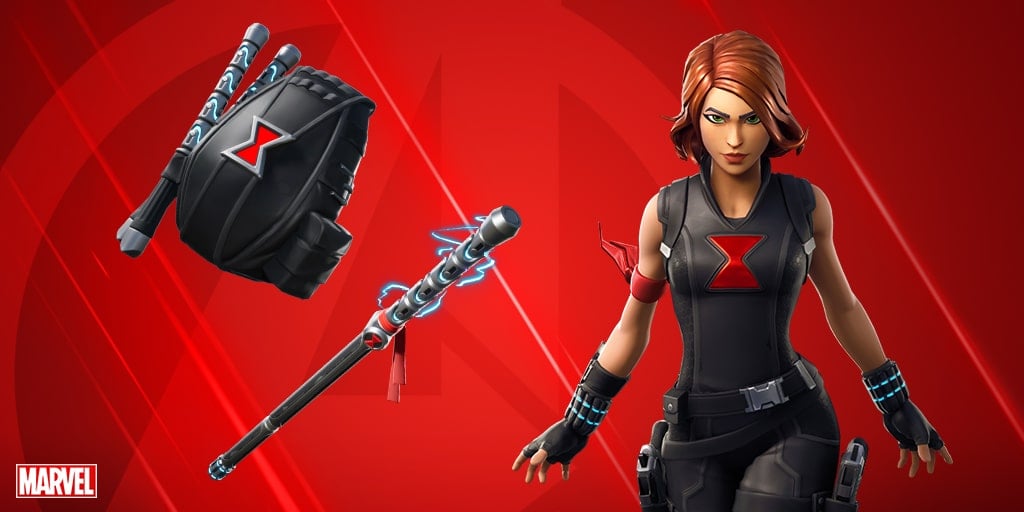 FORTNITE DAILY ITEMS
Cloudbreaker Skin (Rare) – 1,200 V-Bucks
Shadow Boxer Emote (Uncommon) – 200 V-Bucks
Ranger Skin (Uncommon) – 800 V-Bucks
Vivacious Emote (Epic) – 800 V-Bucks
Stumpy Pickaxe (Rare) – 800 V-Bucks
Modern Glider (Uncommon) – 800 V-Bucks