The Fortnite Item Shop has updated to display all of the Fortnite skins and cosmetics available for 27th December 2018. The Item shop features a brand new skin, Fishstick, as well as Bootstraps pickaxe and a Coral Cruiser Glider.
UPDATE: 28th December Fortnite Item Shop can be found HERE
Yesterday's item shop featured a brand new Fortnite emote, Accolades, which costs 500 V-Bucks and is of Rare rarity.
Here are all the skins and cosmetics available in the item shop today: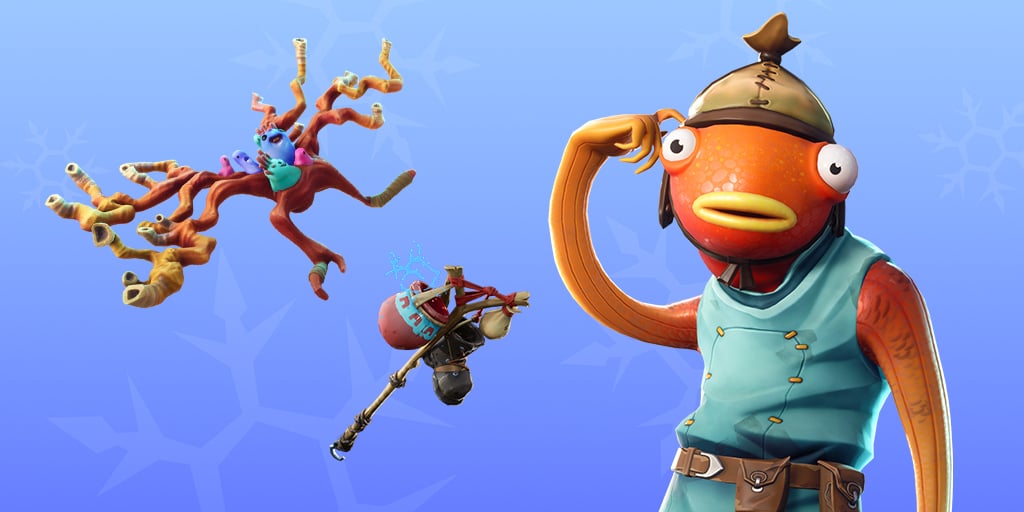 The Fortnite Item shop for 27th December features a brand new Fortnite skin, Fishstick. The skin also has other items in the set including the Bootstrap pickaxe and the Coral Cruiser Glider. These items weren't leaked in the v7.10 apart from the Bootstrap pickaxe.
FEATURED ITEMS
Fishstick Skin (Rare) – 1,200 V-Bucks
Bootstrap Pickaxe (Uncommon) – 500 V-Bucks
Coral Cruiser Glider (Rare – 800 V-Bucks)
Crackshot Skin (Legendary) – 2,000 V-Bucks
Crackabella Skin (Epic) – 1,500 V-Bucks
Snow Globe Pickaxe (Rare) – 800 V-Bucks
DAILY ITEMS
Star Power Emote (Epic) – 800 V-Bucks
Hyperion Skin (Rare) – 1,200 V-Bucks
Roadtrip Glider (Uncommon) – 500 V-Bucks
Brawler Skin (Rare) – 1,200 V-Bucks
Plunja Pickaxe (Rare) – 800 V-Bucks
Behold Emote (Uncommon) – 200 V-Bucks