The Fortnite Item Shop had updated to display all of the Fortnite skins and cosmetics available for 4th January 2019. The Fortnite shop features a brand new skin, Snowfoot, as well as a new pickaxe, Inverted Blade.
Yesterday's Fortnite Item Shop featured the Vertex and Magnus skins along with the T-Pose, Assault Trooper, Pop Lock and Artic Assassin cosmetics.
WANT TO SUPPORT US? USE CREATOR TAG 'FORTNITE-INSIDER' IN THE ITEM SHOP!
Here are all the skins and cosmetics available in the item shop today: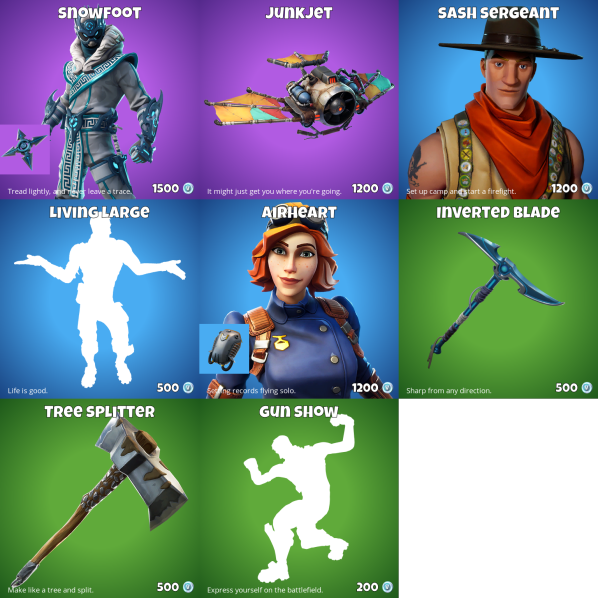 The Fortnite Item features a brand new skin, Snowfoot. The description of the Snowfoot skin is, "Tread lightly, and never leave a trace". Snowfoot is an Epic skin and can be purchased for 1,500 V-Bucks
FEATURED ITEMS
Inverted Blade Pickaxe (Uncommon) – 500 V-Bucks
Snowfoot Skin (Epic) – 1,500 V-Bucks
DAILY ITEMS
Sash Sergeant Skin (Rare) – 1,200 V-Bucks
Living Large Emote (Rare) – 500 V-Bucks
Tree Splitter Pickaxe (Uncommon) – 500 V-Bucks
SGun Show Emote (Uncommon) – 200 V-Bucks
Airheart Skin (Rare) – 1,200 V-Bucks
Here are the Fortnite skins and cosmetics that were available in the item shop on the 3rd January 2019: