It looks like the leaks for the June 2022 Fortnite Crew Pack were correct. The skin for the pack is the Mecha Strike Commander outfit.
We're a few days away from the new season of Fortnite chapter 3 season 3. Last week, there was a leaked image of the Battle Pass for the new season which showed a Darth Vader and Indiana skin.
We knew about Dark Vader being a season 3 skin, but we weren't aware of the Indiana Jones collaboration skin. The image also showcased the June 2022 Fortnite Crew Pack skin, which looked like a type of mecha robot skin.
Epic Games have now released a blog post announcing the new cosmetics for the June 2022 Crew Pack, which confirms a Mecha outfit will be to the crew pack. Here are all the cosmetics in the latest crew pack.
Mecha Strike Commander Fortnite June 2022 Crew Pack Skin
The name of the June pack is Metal Ascension. It will include the following cosmetics:
Mecha Strike Commander Outfit
Mecha Light Capacitor Back Bling
Mecha Reborn Wrap
Here's a look at the cosmetics: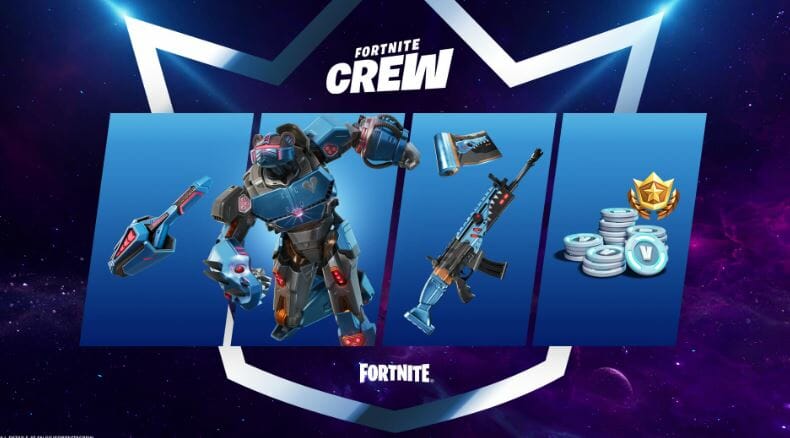 Here's a better look at the Mecha Strike Commander skin:
As with all the other Crew packs, you'll also get 1,000 V-Bucks that are sent to players on the day of their billing date. For example, if you signed up on May 31, 2022, you'll receive the 1,000 V-Bucks on June 30, 2022.
If you purchase the June 2022 Crew Pack, players will automatically get the Battle Pass for Chapter 3 Season 3 when the new season launches this Sunday. The event to end the season will take place this Saturday at 9 PM GMT.
After the event concludes, we'll likely enter downtime for the new season, so we suggest getting all of your challenges done before the live event takes place. There's no official information in regards to the time the servers will go down for maintenance in order to prepare for the new season.