A new Fortnite bundle, Food Knights or 'Knights of the Food Court', has been leaked. The bundle will include three skins, three back blings, and three pickaxes.
The Fortnite servers are back online after scheduled maintenance in order to apply the v16.30 update. As usual during downtime, data-miners looking through the new files when the update was available to download on PC. The next three weeks of challenges have been leaked along with upcoming skins and other cosmetics.
There are a number of locker bundles that have been leaked that'll be available to purchase in the Fortnite Item Shop within the next couple of weeks.
We also have a brand new skin bundle that'll be available soon, Knights of the Food Court. Here's everything that's included in the new bundle.
Food Knights Fortnite Bundle Cosmetics
The Knights of the Food Court bundle will include three Fortnite skins, three back blings, and three harvesting tools (pickaxes).
The description of the new bundle is, "Order your meal Medieval style and prepare for a legendary quest". Here are the names of each cosmetic in the bundle:
Surrr Burger skin/outfit
Pico De Gallant skin/outfit
ZZaria The Cruel skin/outfit
Beefsteel Blade back bling
Buckler Supreme back bling
Zzarian Mantle back bling
Durrrburgian Battlespatch pickaxe
Chunky Salsax pickaxe
Zzarian Slicers pickaxe
Here's a look at the cosmetics in the set: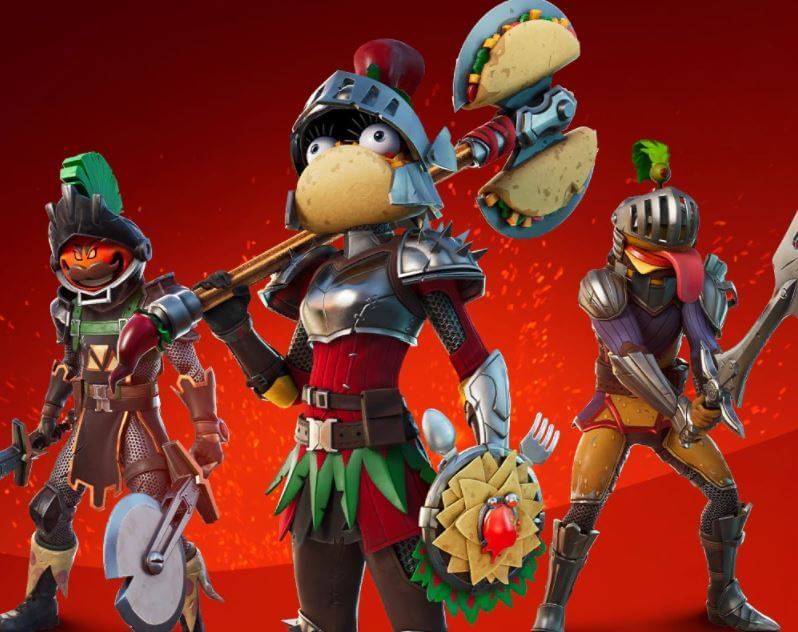 Price
As with all leaks, there's no information regarding how much this bundle will be available for. We're guessing it'll be around the $20 or $25 mark as we don't see bundles like these being purchasable using V-Bucks. As soon as there's more information regarding pricing, we'll update this section of the article.
Release Date
Again, there's no official information regarding a release date for the Knights of the Food Court bundle, but we'd assume it'll be available within the next two weeks. Again, as soon as there's official information regarding when it's available to purchase, we'll update this.