Epic Games announced that the legacy controls settings for aim assist will be removed next week.
Controller aim assist is always debated in many battle royale and FPS games, but the aim assist debate in the Fortnite community has been heated for some time now. With the launch of Fortnite chapter 2 season 2, players noticed that controller players can use aim assist in order to find players through bushes and structures.
It's more than likely this was accidentally implemented by Epic Games but pc players noticed the issue by watching replays of how players were able to track them through structures.
YouTuber Orange Guy posted a clip on Twitter a few days ago outlining how players are tracking players through structures. In the clip, a player can be seen L2 spamming and you can clearly see a player sitting in a bush can track a player in a house although at one point, the player loses tracking on the player in the house. Take a look at the clip below:
https://twitter.com/OrangeGuy_YT/status/1235189139793948673
Fortnite Legacy Controls Aim Assist
With PC players complaining about aim assist for over a year, it seemed as though Epic would never do anything to nerf aim assist in any way, but it looks like that's changed with a tweet put out by Fortnite.
In a tweet on the Fortnite Status account, Epic Games announced that due to improvements that have been made to aim assist, Epic plan to remove the "use legacy look control" on March 13th. In order to use the new aim assist settings Epic added some time ago, players can copy their legacy settings in the controller options and toggle off use legacy look controls.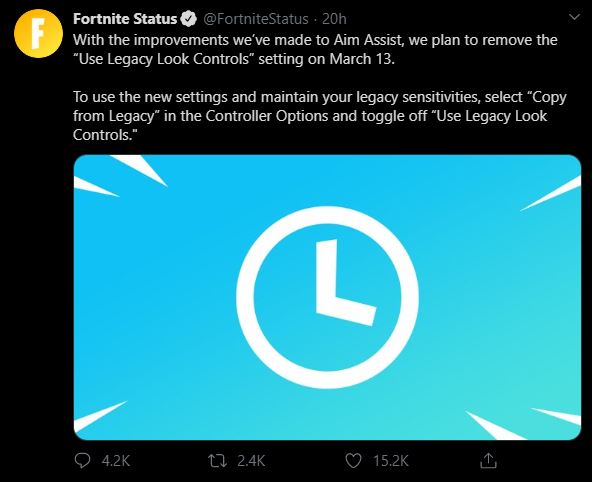 There's a number of competitive players that still use the legacy aim assist including Dominick 'unknownxarmy' Green, so it'll be interesting to see how they adjust when it comes to competitive games.
UnknownxArmy was one of the first players to showcase the aim assist L2 spam tracking feature when the new season released, but it seems like it wasn't as new of a feature as we thought.
A clip surfaced over a year ago showing a player L2 spamming through a smoke grenade and being able to eliminate them. However, with the popularity of the clips surfacing with the launch of the new season, PC players have been even more vocal in regards to nerfing aim assist.
It'll be interesting to see what this will mean for those using legacy controller aim assist and to see just how many competitive controller players can perform against PC players without legacy aim assist.
We'll let you know when the plug is official pulled on the Fortnite legacy controls. Until then, if you still use legacy controls, it's best to make the switch now and get practising.