Fortnite x Rocket League – Earn free rewards from challenges in the Llama-Rama 2021 event.
In 2019, Epic Gamees acquired the Rocket League developer Psyonix. Last year in September, Epic Games tried pushing more interest into Rocket League with the announcement of the Llama-Rama event.
During the event, players needed to complete challenges in order to get rewards. The rewards were both for Rocket League and Fortnite. Some of the free rewards included a spray, contrail, music track, emoticon and a back bling.
Epic Games have now announced the Llama-Rama Fortnite x Rocket League event for 2021 including more free rewards and challenges. Here's everything you need to know about Fortnite Llama-Rama 2021.
Llama-Rama Fortnite Challenges
There are a total of five different challenges to complete and here's the list below:
Play 5 online matches in any playlist
Play 10 online matches
Score 30 goals in online matches
Win 10 online matches in any playlist
Earn MVP in 3 online matches
Fortnite Llama-Rama 2021 Free Rewards
Here's the list of all the free rewards up for grabs in the order of the challenges listed above:
Banner featuring Chapter 2 Season 6's Cluck
Banner featuring Chapter 2 Season 6's Cluck
RL GG Spray
Renegade Blaze Contrail
Octane Whomper Pickaxe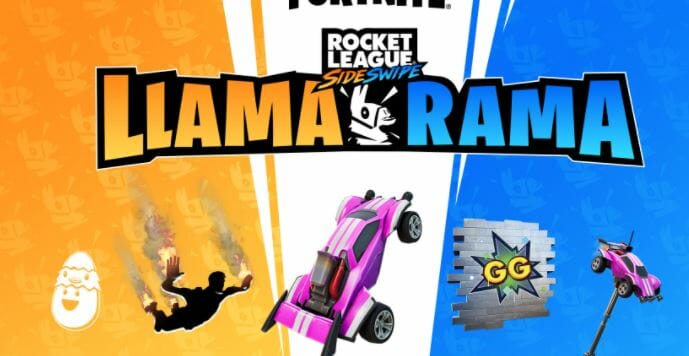 These rewards are an improvement to last years rewards. To get these rewards, you'll need to complete the challenges in Rocket League Sideswipe. The event starts today, December 13th and will end on December 27th at 1 PM ET.
About Rocket League Sideswipe
Rocket league Sideswipe is the mobile experience for Rocket League. It is a free standalone experience build specifically for both iOS and Android devices.
Here's the official gameplay trailer for Sideswipe: