Here's where you'll find all the EGO Outposts in Fortnite for the Lowdown challenge.
Epic Games have added Fortnite locations on the chapter 1 map that weren't named or unnamed locations, but were outposts of some sort that had something to do with the storyline for that season.
The chapter 1 map brought us pirate camps, expedition outposts, sky platforms, and more. There were challenges in every season that required players to search chests or visit all these outposts.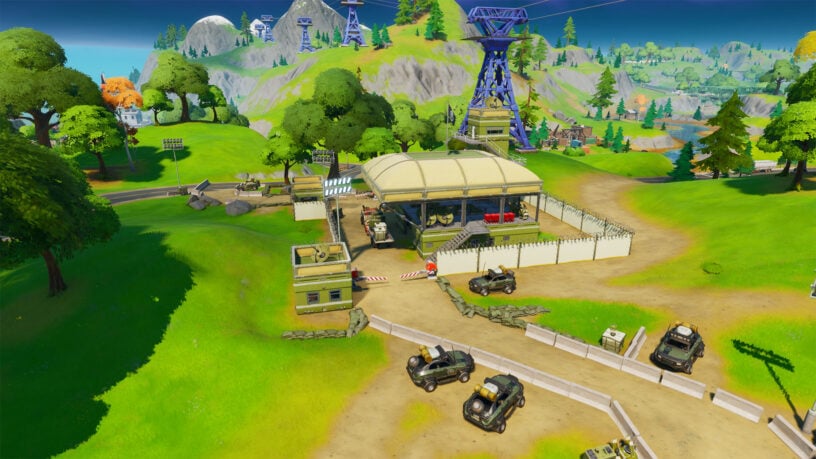 This new chapter and new season is no different. There have been two challenges release thus far that requires players to visit all the ego posts along with searching chests at Fortnite EGO outposts. Below you'll find a map with all the EGO outpost locations.
Fortnite EGO Outpost Locations
EGO outposts will have something to do with the storyline for chapter 2, season 1. However, Epic are yet to release any major information regarding what they storyline will be, but with a live event later in the month, we could get some more information for the storyline soon. Here's the EGO outposts locations.
EGO Staging Post – Coordinates G/H3 south of Steamy Stacks.
EGO Barracks – Coordinates F5 on the map, north west of Lazy Lake.
EGO Science Station – C2 on the map, west of Pleasant Park.
EGO Comm Tower – D/E8 on the map, south west of Misty Meadows.
EGO Hangar – A/B5, south west of Holly Hedges.
Every Fortnite EGO outpost is a military base, some of which are bigger than others. You need to visit all five EGO outposts for one of this seasons challenges whilst another one requires you to search chests there.
Here's all the EGO outposts marked on a map:
It's unlikely there'll be any other challenges that'll require players to know the locations of the EGO outposts, but you never know with Epic.
The best way to visit all the ego outposts as quickly as possible is to drop at the EGO barracks that's north west of Lazy Lake.
In the lake, you'll find a boat west of the outpost. You can use the boat to move around the map quicker in order to try and visit all the outposts in one map.