Here are the locations of malfunctioning vending machines in Fortnite chapter 3 season 1 in order to purchase a random item.
There's a new set of weekly Fortnite challenges releasing today for chapter 3 season 1 week 6. We know what they are ahead of time as they were leaked in the v19.00 update. Usually, only two weeks of challenges are added and then leaked by data-miners.
However, this season, Epic Games added in more than six weeks of weekly challenges, all of which have already been leaked by data-miners. There are some changes that may happen to the challenges prior to release.
Either some of the challenges will change completely, or the parts of the challenge will change. For example, a leaked challenge stated players would need to hide in stealthy grass. When this challenge went live, it was changed to tall grass.
One of the week 6 challenges requires players to purchase a random item from a Malfunctioning Vending Machine in Fortnite. Here's a guide on the best and fastest way to complete this challenge as some players may struggle with this one.
Where to find Malfunctioning Vending Machines Fortnite
In order to purchase a random item from a malfunctioning vending machine, we want to know the spawn locations of them to help us complete this challenge quicker. Here's a map of all the vending machine locations in chapter 3 season 1: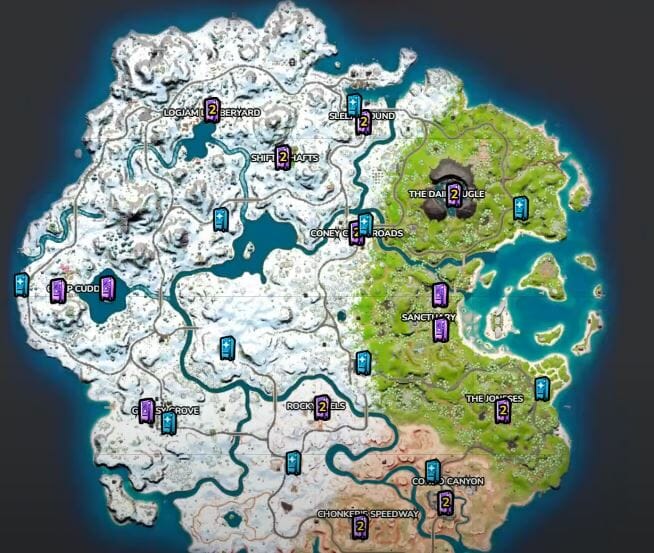 Based on the map above, your best bet is to head to Sleeping Sound as there are three different vending machines. Your next best option is Coney Crossroads. As the two are close together, we recommend droping at one of the two locations and then going to the other.
A malfunctioning vending machine in Fortnite will be red and have an exclamation mark on it. You'll need to have 100 gold and you'll get a random item from it. Here's what malfunctioning vending machines look like in Fortnite:
You only need to purchase a random item from a Malfunctioning Vending Machine in Fortnite once to complete the challenge.