Here's where players can find Mjolnir in Fortnite in order to prove your worth by picking up Mjolnir as Thor.
We have a brand new Fortnite battle pass for season 4 and it's probably one of the best battle passes we've seen. All The cosmetics available in the battle pass are Marvel-themed, and players can unlock Thor right from the get go.
As soon as you buy the battle pass, you'll unlock Thor. However, his other cosmetics are unlocked at slightly higher tiers. Thor's hammer, Mjolnir is available at level 8 in the battle pass. However, in order to actually unlock it, players need to complete one of the Thor Awakening challenges for Mjolnir.
The challenge is to prove your worth by picking up Mjolnir as Thor. Here's a quick guide on how you can complete this challenge within seconds of landing from the battle bus.
Fortnite Mjolnir Location 
Mjolnir can be found within walking distance of Salty Springs. You'll find the Mjolnir on the ground south-west of Salty Springs.
Prove your worth by picking up Mjolnir as Thor
In order to complete this challenge, players simply need to remember to be using the Thor skin and then head to the crater that's marked on the Fortnite map. If you're still not sure where Mjolnir is, here is the location on the map: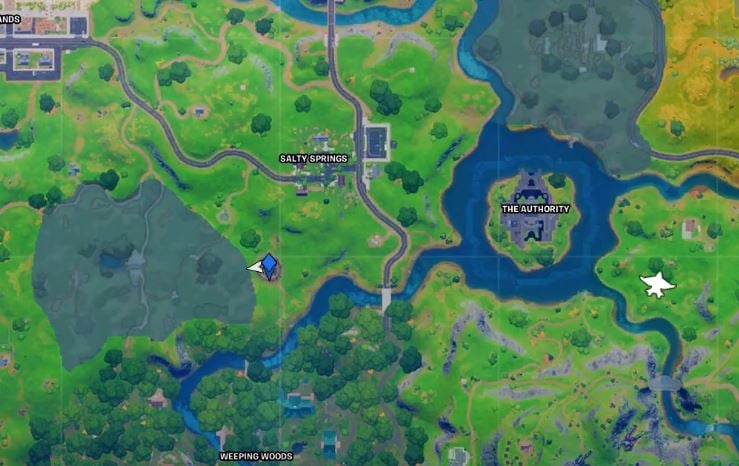 [quize]
Once you're there, you'll see Mjolnir on the ground. All you have to do is walk up to the hammer and interact with it when you're told to do so. Once you've picked it up, you'll then be wielding the Mjolnir pickaxe in-game.
It's quite a quick challenge to complete and players get a pickaxe that shoots out bolts of lightning upon swinging it. Here's what the Mjolnir pickaxe looks like for those that haven't seen it yet: