Mobile users should now be receiving the Battle Star compensation for issues signing into Fortnite since the v9.40 update.
Epic update Fortnite on a weekly basis but it seems there were many issues with the v9.40 update, especially for mobile players. Epic were aware of these issues and attempted to rectify them by pushing out two more patches. Here are the issues that were found and how Epic tried to fix them.
When the v9.40 update was released on all platforms on July 17th, Epic had noticed that there were some stability issues for iOS users and so they worked on a fix and released the v9.40.1 patch in order to resolve this issue on July 18th. This patch has actually caused further issues after it was approved and released on the App Store.
There was an error message players would see, "A file corruption has occurred. Please try again" as there seemed to be a patch error which would not allow players to download the patch properly. Epic has then asked players to uninstall and then reinstall the game to rectify these issues.
They were aware that this wasn't ideal and so they worked on another fix for players who had not uninstalled the game yet to be able to play without uninstalling it. Those who did reinstall the game were gifted 1,000 V-Bucks and 15 Battle Stars were awarded on July 22nd.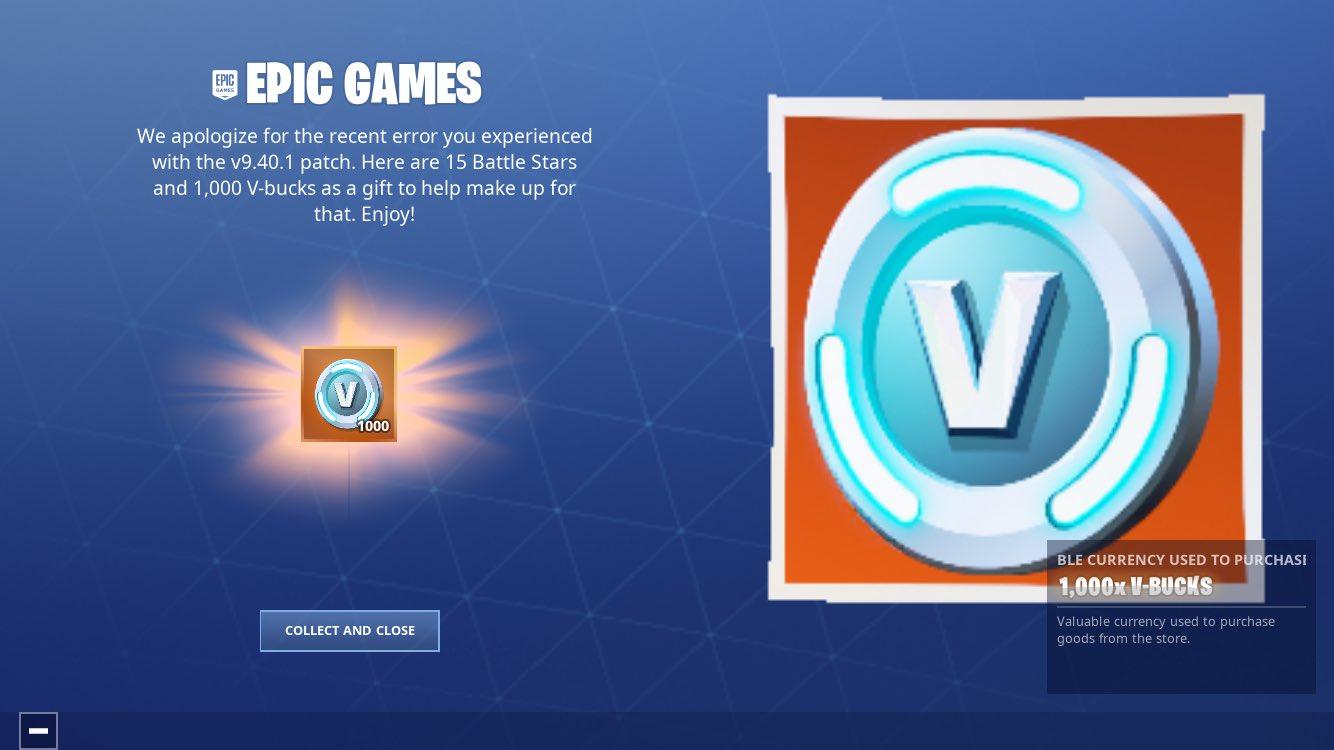 There were other issues that were still occurring for mobile users:
Login using console credentials.
Do no remain logged in even when "remember me" was selected.
These issues were resolved in the v9.40.2 update and Epic were waiting for a full list of players that were affected by these issues to offer a gift in the form of 10 Battle Stars. This compensation is now being awarded to players that were affected by the v9.40 mobile issues.
UPDATE: Even though it is the last day of Season 9 and most players have reached Tier 100, you will not be able to claim these tiers for the next season. You cannot avoid this by only logging in when Season X starts but the message may come up once you log in but the Battle Stars will not be awarded, as confirmed by FreightTrainUSA, Community Coordinator for Fortnite, on Reddit.
You will not get Battle Stars to start next season. You may see the message show up due to you not logging in today, but you will not gain any Battle Stars to start the new season.
He followed up on a comment suggesting most players have reached Tier 100 with the following:
The Reddit Community does not encompass the entire mobile player base. Players who are here on Reddit are typically extremely active and may have a higher tier then the average player. There are plenty of players who have not yet completed tier 100 of the Battle Pass.