Here's everything you need to know about the Fortnite x NBA community team battles.
Epic Games recently announced the collaboration with the NBA. On May 21st, players will be able to grab the In The Paint Fortnite set which is the NBA Fortnite skins in 31 different uniforms including all of the thirty NBA teams in the league.
There's also Fortnite player locker bundles for Donovan Mitchell and Trae Young, but there's no information regarding a release date for those. Next week, The NBA will crossover into Fortnite Creative. There will be a blog post showcasing the new NBA welcome hub on Tuesday, May 25th.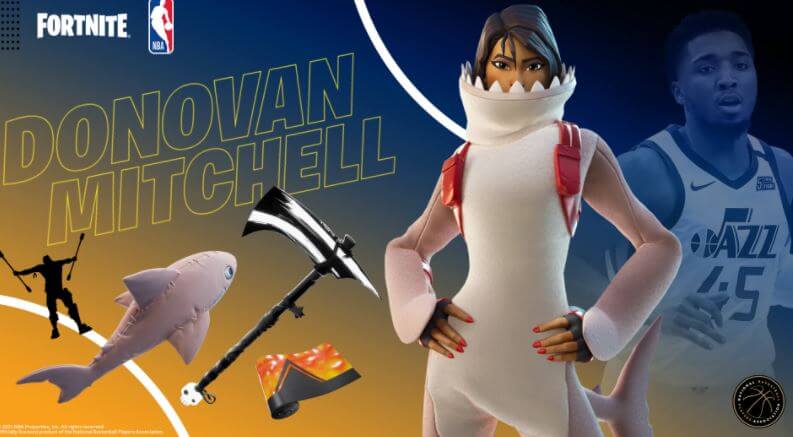 Tuesday is almost guaranteed to be the date that the final major Fortnite update of the season will drop, v16.50. It's likely any new Fortnite Creative assets for this NBA crossover will be added in next weeks update.
We also have the Fortnite NBA community battles that'll provide players with the chance to sign up as their favorite NBA team and earn in-game rewards and free Fortnite V-Bucks. There will be challenge tasks and team leaderboards, so you'll know where your team stands.
NBA Fortnite Community Battles Rewards
Players can earn free Fortnite V-Bucks along with in-game rewards including the NBA Championship Trophy. Here's a list of all the rewards along with how to get them:
| | |
| --- | --- |
| Requirement | Reward |
| Members on #1 Ranked Team | 500 V-Bucks + Fortnite "NBA Championship Trophy" in-game cosmetic Back Bling |
| Fans on #1 Ranked NBA Team | Fortnite "NBA Championship Trophy" in-game cosmetic Back Bling |
| Members on #2 Ranked NBA Team | 300 V-Bucks |
| Members on #3 Ranked NBA Team | 100 V-Bucks |
| Complete 3 Challenge Tasks (Members + Fans) | Fortnite "Spin" in-game cosmetic Spray |
| Complete 5 Challenge Tasks (Members + Fans) | Fortnite in-game Banner |
Here's a look at those rewards:
How to Sign Up
The sign up process for the NBA community Fortnite team battles is straightforward. You need to visit the NBA team battles website, click the join button, and log in with your account. Here's a link to the official website. If you can't sign up, it's likely due to the heavy traffic that the site is currently experiencing. Try again later if you're find it difficult to sign up.
If you get the "unable to complete sign in, please try again later or contact support", just wait and you should get to the next page.
Once you're onto the next page, you can pick the team you want to contribute to. Each team has a maximum of 15,000 fans that can sign up. If you to a team with 15,000 fans already, you'll be marked as a fan. This means you won't get the V-Bucks rewards, but you can still get the cosmetic rewards. You'll also still get the challenges to do in order to help your team to win.
When signed up and logged in, you'll see all the teams and how many team mates and fans are on each team. Here's what that looks like:
NBA Fortnite Challenges
One new Fortnite NBA community team battles challenge will be unlocked each day. Task 1 or challenge is requires players to play 24 minutes in any regular mode (solo, duos, trios, squads). Upon completion, you will help your team win 1,000 points.
Stats (Leaderboard)
As of the launch of the NBA Fortnite community team battles, you won't be able to access stats on the leaderboard until May 22nd. Once it's available, head to the official team battles Fortnite site where you signed up and you'll see a tab called "leaderboard.