According to leaks, a no build Fortnite mode is in the works.
Epic Games have capped off a good year for Fortnite with the launch of Fortnite chapter 3 season 1 at the start of the month. There were rumors season 8 would be the last of chapter 2 and it turned out to be true.
Players seem to be enjoying the chapter 3 map far more than the previous map. We've seen the return of some popular chapter 1 locations including Greasy Grove and Shifty Shafts along with Rocky Reels (Risky Reels) yet again featuring in a new chapter.
For those that played in chapter 1, you'll remember the chaos that took place in Tilted Towers. The action packed named location will be making a return this season, and by the looks of it, it seems like it will return during week 6 unless anything changes last minute.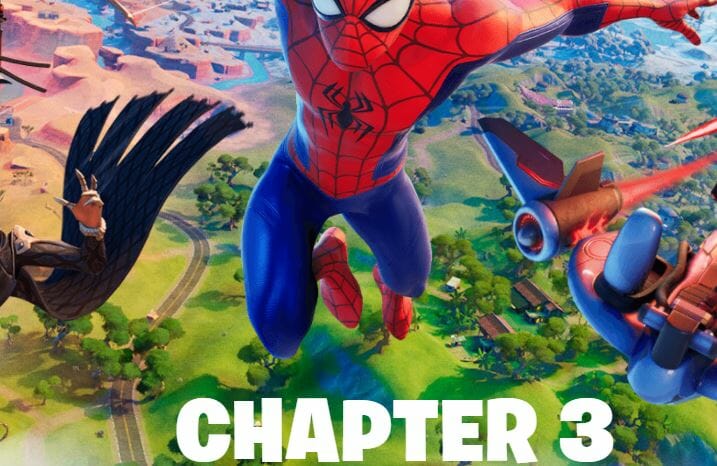 Along with the return of Tilted Towers to look forward to, we could see a Fortnite no build mode coming as an LTM at some point according to leaks from several data-miners including Hypex.
No Build Limited-Time Mode in Fortnite
We've never had a no build mode in Fortnite since it was released at the end of 2017. However, we have had an LTM that does severely limited the amount of material a player can hold at once.
Back in 2018, the Christmas event was called 14 days of Fortnite instead of Winterfest. There would be a new LTM rotating into the playlist to replace the previous LTM. One of the game modes was called Ground Game.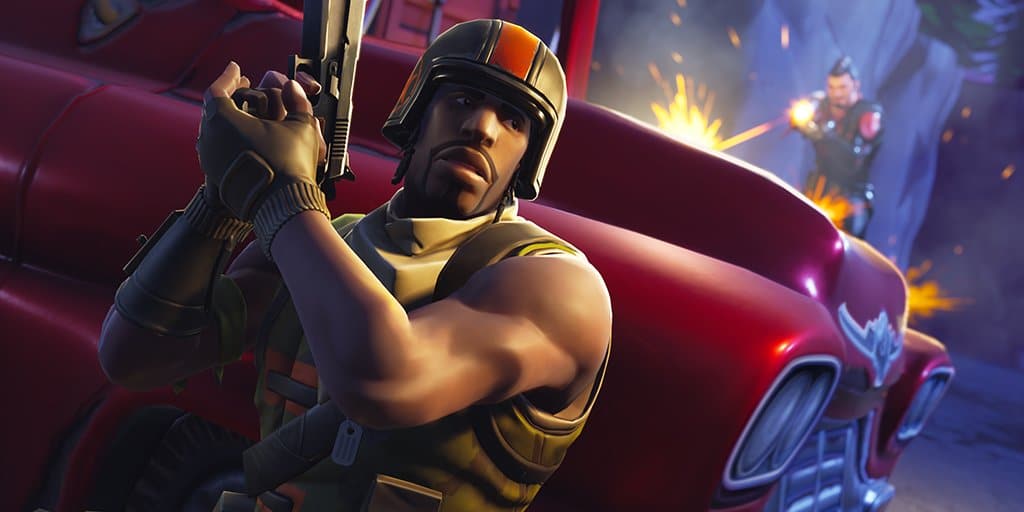 In Ground Game, players were restricted to 160 light ammo, 100 medium ammo, 15 heavy ammo, 20 shotgun shells, and 3 rocket launcher ammo. Material was limited to just 30 wood, 20 stone, and 20 metal. It was a well received LTM that was released on December 28th, 2018 but hasn't been available to play for some time.
We're getting one better for those that aren't good a building, a no build mode in Fortnite. According to popular and accurate data-miner Hypex, Epic Games are working on a Fortnite no build mode. There's no other information or a release date, but it'll definitely be a hit whenever it makes its debut.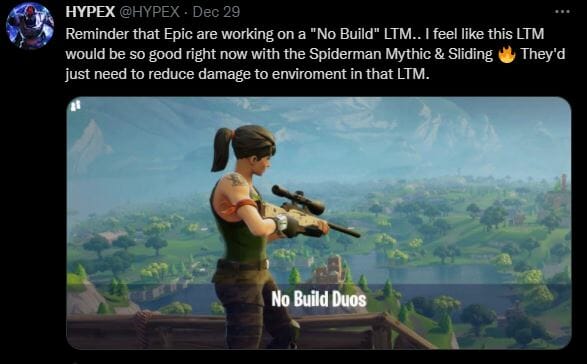 Chapter 3 season 1 is primed for a no build Fortnite LTM with the release of the MK-Seven rifle because as you'll know, once you aim down sights you'll be in first person. Along with the sliding mechanic and the Spider-Man mythic item, it would be the best season to launch this type of LTM and it wouldn't be far-fetched to suggest it'll release sooner than you think.
Hopefully in the next update, the files for the no build mode in Fortnite will have been updated which likely means a release this season.