The Fortnite No Sweat summer event for 2022 is now live with new summer-themed POIs, challenges, and rewards.
Each year, Epic Games release a summer-themed event for Fortnite. It'll usually include small changes to the map, new summer-themed cosmetics entering the item shop, and challenges that once completed, will reward players with free cosmetics.
We've known for a few weeks that the Fortnite 2022 summer event would be called "No Sweat Summer". Epic Games have just released a blog post officially announcing the 2022 summer event.
The blog post features a trailer for the No Sweat Summer Fortnite event as well as outlining all the different quests and rewards that'll be available during the event.
Here's everything you need to know about the 2022 Fortnite No Sweat Summer event from the item shop cosmetics to the quests and challenges that will go live starting today up until August 3rd, 2022.
No Sweat Summer Fortnite Quests/Challenges
For this year's Fortnite summer event, there will be a different set of quests released every three days. Here are the names of the different quests that'll be available:
No Sweat Sponsorship quests
No Sweat Marketing
No Sweat Product Recall Quests
Here's a list of all the challenges:
Land after jumping from the Battle Bus during the No Sweat Summer event
Carry the No Sweat sign and place it at a sponsorship location
Complete a lap around the boat race circuit after the starting countdown
Make a Character dance to a Boogie Bomb
Jump on umbrellas along the beach
Kick a beach ball and kick a giant beach ball
Fire off the Firework Flare Gun at Mighty Monument or Tilted Towers
Bust through doors in different neighborhoods
Destroy large sea buoys with Motorboat Missiles
Damage opponents while swimming
Visit different named locations
Ring Doorbells until they break
Throw an since cream cone at different named locations
Emote at different promotional dance floors
catch 3 seconds of air while driving a motorboat
remove no sweat signs from recalled products and place them in an official bin
pop no sweat summer inflatable objects
All No Sweat Summer 2022 Fortnite Rewards
Here are all the rewards that'll be available this year:
Ice-Blasted Snow Crunchem Back Bling
Meowscles' Tail Style of the Ice-Blasted Snow Crunchem Back Bling
Fishy Flurry Style of the Ice-Blasted Snow Crunchem Back Bling
Goopy Guff Style of the Ice-Blasted Snow Crunchem Back Bling
No Sweatin' Lobby Track
Sweaty Rotation Emote
Sweaty Sailer Glider
Nana Frost Style of the Ice-Blasted Snow Crunchem Back Bling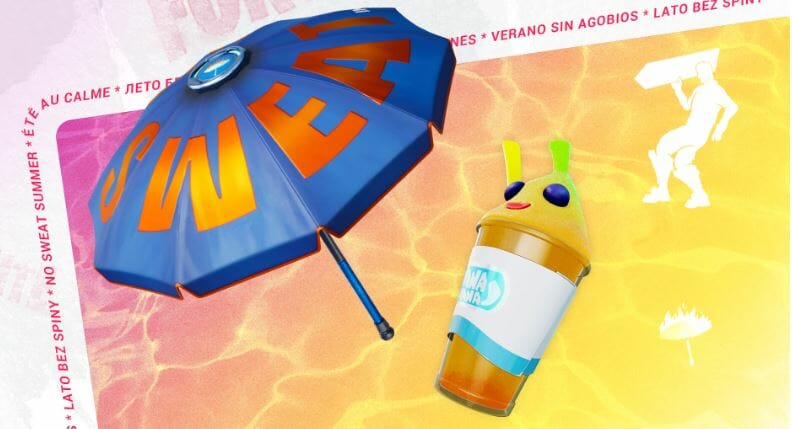 The Sweat Sailer Glider will be available once you completed seven challenges, and the Sweaty Rotation Emote will unlock after completing fourteen challenges.
Rebuilding the Block Fortnite Quests
A rebuilding is taking place in Tilted Towers. There will be "rebuilding the block" quests that'll go live in three separate categories. For completing three rebuild the block quest stages, players will unlock the Sea-Wheeeed Contrail. Once you complete seven challenges, you'll get the Lucky Lance Pickaxe. Complete 12 and you'll get the Oro-Boris Back Bling.
Here's a look at all the Rebuilding the block quest rewards: